NEXCOM's fanless multimedia panel PC MPPC 2120T, features a large, vivid 21.5" Vertical Alignment (VA) LCD touch screen with LED backlight to provide exceptional visual at wide viewing angles. The bright, distinct and responsive VA touch screen enhances information delivery and promotes user interaction, offering better customer service and experience for signage and kiosk applications. Combined with dual core computing performance, the MPPC 2120T is an all-in-one solution perfect for interactive kiosks in hotels, airports, public transports, as well as retail signage displays in shopping malls and restaurants.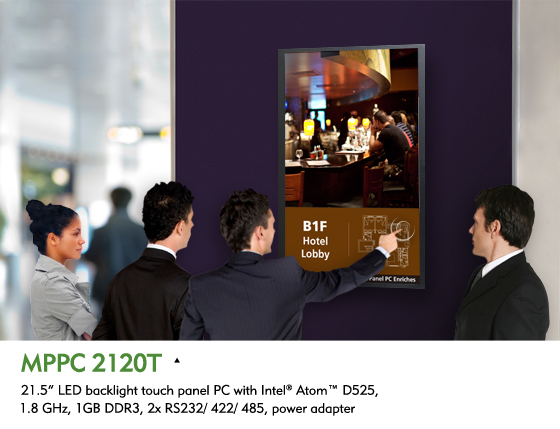 Utilizing VA panel technology, the MPPC 2120T delivers superb viewing angles, reaching up to 89(U), 89(D), 89(L), 89(R), high contrast ratio of 3000:1, and luminance of 420cd/m2. With such amazing features, the multimedia panel PC is free from color shifts and discoloration when viewed from a wide angle, as well as under bright and low ambient lights. This makes it perfect for public premises, especially in areas where the panel PCs are installed above eye-level locations in vertical orientation, such as digital menus in restaurants and exhibit displays in trade shows.
The fanless MPPC 2120T uses LED backlighting, which consumes very little power, and is equipped with a low power Intel® Atom™ processor D525. These features not only reduce utility bills, but also increase the system's lifespan, effectively lowering the total cost of ownership (TCO). Furthermore, the dual core processor is paired with DDR3 memory to handle multimedia content streaming and interactive touch selection tasks simultaneously.
Designed to look sleek and fit into all kinds of environment, the MPPC 2120T is housed in a black chassis with slim bezel design around the borders. The flat, narrow bezel maximizes screen visibility and creates an attractive look that grabs customers' attention and increases engagement. The front panel is also certified with IP65 for water and dust proof, making it suitable for locations where water may be present such as water theme parks. In addition, the system supports panel, wall and VESA mounting to ensure that it can be installed virtually anywhere.

For locations where physical network cabling is not feasible, the MPPC 2120T can be fitted with an optional Wi-Fi module, not only this reduces cabling, but also allows wireless remote management. Finally, the MPPC 2120T comes with various I/O interfaces for flexibility and expansion.
Main Features
16:9 21.5" fanless panel computer
Intel® Atom™ D525, dual core, low power consumption processor
Dual GbE/ line-in/ line-out/ mic-in/ PS2 keyboard/mouse
4x USB/ 2x mini-PCIe sockets/ 1x CF/ 2x RS232/ 422/ 485
DDR3 1GB/ 2.5" HDD bracket/ two speakers
Optional Wi-Fi module/ 2.5" HDD/ VGA splitter/ panel mount kit
Panel mount/ VESA mount compliance
Wide range power input 12V~30V DC
Ordering Information
MPPC 2120T Ver. B (P/N: 90IM2120T02X0)
21.5" LED backlight touch panel PC with Intel® Atom™ D525 1.8 GHz, 1GB DDR3, 2x RS232/ 422/ 485, power adapter