NEXCOM has launched the Point-of-Service (POS) box NPB 3550 and 15-inch touch monitor NPD 1050 series to maximize operation uptime. Featuring a power-efficient processor and robust fanless enclosure, the NPB 3550 delivers long-term stable operation and requires a fraction of time when field maintenance is necessary. While the IP65-compliant NPD 1050 is a robust touch monitor that supports modular integration. Together, the NPB 3550 and NPD 1050 allow quick installation, maintenance and upgrade, satisfying the key selection criteria for POS system.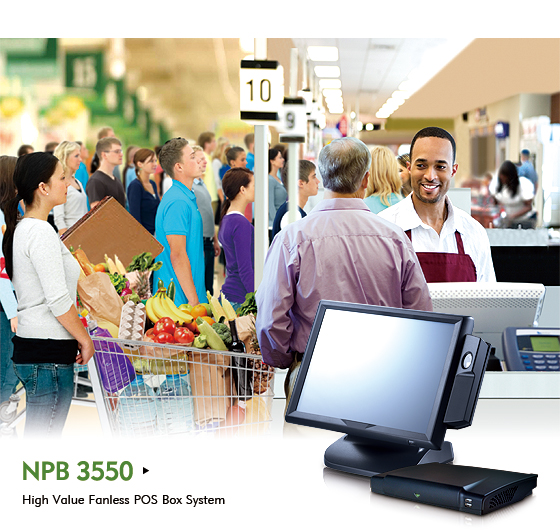 The fanless POS box NPB 3550 is developed to address reliable and maintenance concern of retailers. Based on power-efficient dual core Intel® Atom™ processor D2550, the NPB 3550 has a fanless aluminum enclosure, which can dissipate heat and prevent water and dust ingress to assure reliable operation. The NPB 3550's top cover latch gives technicians easy access to the interior for HDD replacement, CPU board upgrade or WLAN card installation.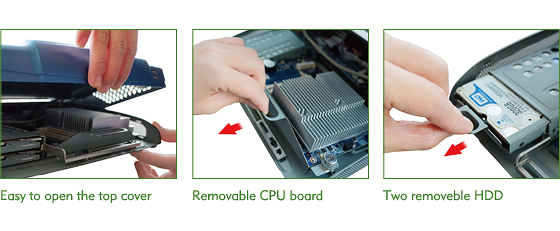 This POS box also has assorted I/O interfaces for peripheral expansion and the PoweredUSB 12V is a noteworthy feature which can simplify cabling. Also, the wall-mount kit is provided for quick installation. Giving careful thought to installation, operation and maintenance, the NPB 3550 is designed to offer unparalleled uptime.
The touch monitor NPD 1050 series has 15-inch LCD panel with VGA resolution (1024*768) and provides 5-wire resistive and projected capacitive touch technologies. This series supports integration of magnetic stripe reader (MSR), VFD and fingerprint reader. Designed by the IP65 standard, the
NPD 1050 series ensures industrial-grade reliability and has a stylish true flat outlook.
Main Features
Slim and compact enclosure design
Intel® Atom™ processor D2550, 1.86GHz
Support DDR3 1066 SO-DIMM memory
2x 2.5" removable SATA HDD
4x powered COM, 6x USB, 1x printer port, 1x VGA, 1x DVI, 1x GbE LAN, 1x cash drawer, 1x PS/2
Optional wall-mount kit for compact space accommodation
Ordering Information
NPB 3550-110 SYSTEM (P/N: A0Y10355000X0)
Dual-core Intel® Atom™ processor D2550, 1.86GHz L2 1MB; 2GB DDR3 SO-DIMM; 320GB 2.5" SATA HDD 5,400rpm; +12VDC 100W AC/DC power adaptor
NPD 1050-112 SYSTEM (P/N: A0Y20105000X0)
15" LCD resistive touch POS display 4:3 LCD flush, VGA, DVI-D and DP display input