NEXCOM's high-end video wall player, NDiS B862, is designed to drive multiple displays for digital-out-of-home (DOOH) applications. The video wall player provides superior graphic performance to display immersive visuals at 6K x 2K resolution on tiled displays. Equipped with six HDMI display outputs, NDiS B862 can seamlessly stretch the image and video across six displays. NDiS B862 also has the durability, the functionality and the right interfaces to ensure long-term operation.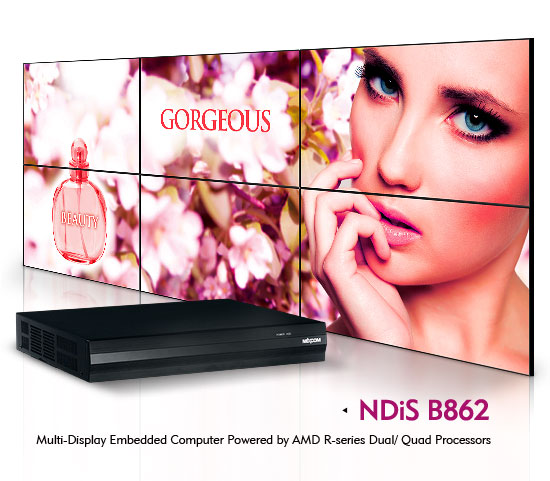 NDiS B862 is based on the dual/quad-core AMD Embedded R-Series APU platform and a dedicated AMD Radeon™ E6760 GPU. Featuring the dual-GPU design, NDiS B862 has dedicated GDDR5 graphics memory, dual-video decoder and DirectX® 11 support. The video wall player offers accelerated streaming of HD and 3D Blu-ray videos and enables massive display resolution of up to 5760 x 2160 across six displays using AMD Eyefinity technology.
The six displays can be configured in vertical, horizontal orientations and flexible multi-monitor placement to meet video wall setups. To keep installation simple, the NDiS B862 comes with uniform HDMI display output interface and advanced display configuration utility to give engineers a fast and easy way to configure the display matrix. Therefore, NDiS B862 is ideal for graphic-intensive DOOH applications in retail, gaming and entertainment sectors, and mission-critical control rooms requiring real time accuracy and high visibility. NDiS B842, a model with four HDMI display outputs, is also available.

In addition to superb graphics, NDiS B862 is designed for long-term operation. Inside the chassis, a vibration-proof mount is used to house a hard drive and protect it from shock and impact. On each side of the chassis wall, a removable fan module is placed to keep the internals cool and allow easy fan replacement. The fan speed can be automatically adjusted to match the internal temperature, increasing fan life and improving reliability.
NDiS B862, enclosed in a compact, stylish exterior, provides a vast range of interfaces to support LAN/WLAN/WWAN connectivity, television program and audio outputs. The player also provides USB 3.0, USB 2.0 and RS-232 ports for peripheral devices. NDiS B862 has the performance, the functionality and the right interfaces to enrich DOOH applications by large scale displays.
Main Features
AMD R-series platform
AMD Radeon™ E6760 GPU
Slim and compact design
6x HDMI
2x USB3.0 support
WLAN and TV tuner support
DirectX 11 support
Removable fan module
Ordering Information
NDiS B862 (P/N: 10W00B86200X0)
AMD R-series Dual/ Quad processors, AMD Hudson-M3 A70M chipset AMD Radeon™ E6760 GPU