NEXCOM SWF 1210 is an industrial Wi-Fi access point built with security features to protect small and medium enterprises from security threats posed by BYOD (Bring Your Own Device) trend. The SWF 1210 offers enterprise-level encryption and authentication to prevent unauthorized access. To keep security threats at bay, the SWF 1210 can detect and block malware, prevent intrusion, filter predefined applications and websites, ensuring SMEs network is securely connected by ubiquitous wireless devices.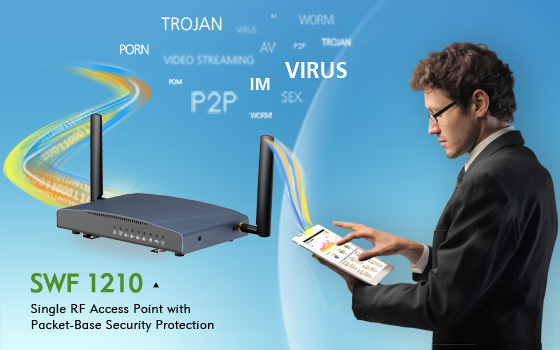 Designed for SMEs, the SWF 1210 supports 802.1x authentication and WPA2 enterprise encryption. This feature restricts the Wi-Fi access to users with valid credentials and can protect the transmitted data from interception and alternation. In the meanwhile, this industrial Wi-Fi AP offers DPI firewall (Deep Packet Inspection) to scrutinize inbound Wi-Fi traffic to filter suspicious data packets.
To fortify network security, the SWF 1210 provides Anti Virus, Intrusion Prevention, Application Guard, Web Guard, and Web URL Filtering functions to deter determined intruders. The five building blocks can detect and block malware, including virus, spyware and Trojans; inspect packet and traffic anomaly; perform applications control based on whitelist, time and application category; prevent website hijacking; and block and filter websites based on website domain, URL keyword and URL categories.
Better still, the SWF 1210 is backed up with continuously-updated databases of virus signatures, malicious website list and intrusion signature, priming SMEs for zero-day exploits. This industrial Wi-Fi AP provides free one year database license, which can be renewed via NEXCOM annually.
The SWF 1210 is a 2.4 GHz AP, conforming to 802.11 b/g/n standards and supporting connecting speed up to 300 Mbps.
Main Features
IEEE 802.11b/g/n mode AP, 2T2R with 300Mbps high throughput
Anti Virus: virus scanning, including HTTP/ FTP/ SMTP/ POP3/ IMAP4 protocols
Intrusion Prevention: intrusion scanning with 2,600+ rules signatures
Application Guard: configurable application blocking including IM and P2P
Web Guard: actively filter-out malicious website (560K+ rule database)
Web URL Filtering: self-define key word base URL filtering (35 pre-define categories)
Backend signature database actively update service
Ordering Information
SWF 1210-EU (P/N: 10SF0121000X0)
SWF 1210-US (P/N: 10SF0121002X0)