NEXCOM's NISE 3800 series of fanless computers consolidates high computing power, enhanced expandability and connectivity for industrial requirements. Supporting 6th and 7th Intel® Core™, Pentium®, and Celeron® processors paired with Intel® Q170 Chipset, the NISE 3800 series delivers advanced processing and powerful image manipulation. Offering superior connectivity and function expansions with maximized endurance and signal quality, the series easily adapts to control CNC machinery, improve machine inspection, and facilitate edge server solutions.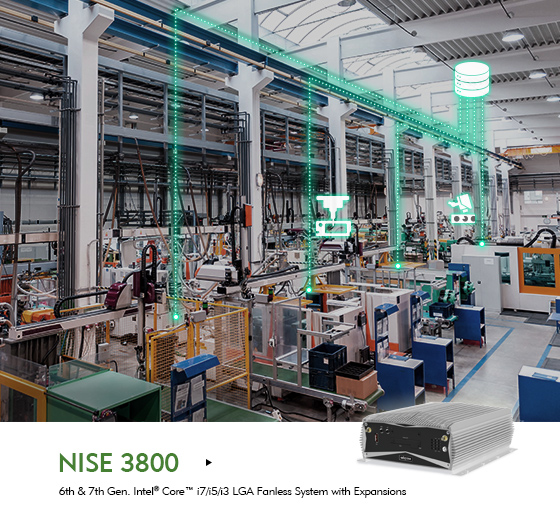 The NISE 3800 series, with multi-core processor, is scalable to perform as a robust CNC machine controller. The fanless computers satisfy advanced processing power demands for machine automation, overseeing sensors that constantly collect large amounts of data for motion control. Simultaneously, they can multitask to accomplish CAD/CAM applications while displaying graphics and animations to monitor processes related to manufacturing equipment. Moreover, the series has passed EN61000-6-2 and EN61000-6-4 standards for heavy-industrial EMC in dusty or oily environments.
The fanless computers NISE 3800 are meant to smooth the path for automatic optical inspection machines. Intel® HD Graphics engine allows the NISE 3800 to conduct 2D and 3D visuals to fulfill different speeds and precision requirements. Equipped with ten USB3.0 and three GbE LAN ports, the NISE 3800 series is effortlessly connected to high speed cameras to process images for Automatic Optical Inspection applications requiring high computing and graphic performance.
The NISE 3800 series represents an excellent IoT Edge Server solution. In edge computing, the fanless computers gather data from all connected devices on the factory floor to analyze in real-time. Then, they transmit required data to a remote location reducing network traffic. And finally, with RAID 0 and 1 support, they secure data storage locally increasing availability and redundancy.
Main Features
Support 6th generation Intel® Core™ i7/i5/i3 LGA socket type embedded processor
2x 2.5" SATA HDD with RAID 0 and 1
10x USB 3.0, 2x USB 2.0, 2x RS232/422/485 with flow control
3x GbE LAN ports supporting PXE, teaming, and wake-on-LAN
2x mini-PCIe, 1x M.2, 1x SIM card
Support triple independent displays: DVI-D, DP, HDMI
DC input range: 9-30V; ATX power mode
Ordering Information
NISE 3800AP2E System (P/N: 10J00380006X0)
6th generation Intel® Core™ i7/i5/i3 and Q170 Chipset fanless system with one PCI and one PCIe x4 expansion, 10xUSB3.0
NISE 3800R System (P/N: 10J00380001X0)
6th generation Intel® Core™ i7/i5/i3 and Q170 Chipset fanless system with an external 2x2.5" HDD Bracket to support RAID 0/1
NISE 3800E-H110 System (P/N: 10J00380000X0)
6th generation Intel® Core™ i7/i5/i3 and H110 Chipset fanless system with one PCIe x4 expansion
NISE 3800E System (P/N: 10J00380003X0)
6th generation Intel® Core™ i7/i5/i3 and Q170 Chipset fanless system with one PCIe x4 expansion
NISE 3800E2 System (P/N: 10J00380002X0)
6th generation Intel® Core™ i7/i5/i3 and Q170 Chipset fanless system with two PCIe x4 expansions
NISE 3800P2 System (P/N: 10J00380005X0)
6th generation Intel® Core™ i7/i5/i3 and Q170 Chipset fanless system with two PCI expansions
NISE 3800P2E System (P/N: 10J00380004X0)
6th generation Intel® Core™ i7/i5/i3 and Q170 Chipset fanless system with one PCI and one PCIe x4 expansion
24V, 120W AC to DC power adapter w/o power cord (P/N: 7400120023X00)
24V, 180W AC to DC power adapter w/o power cord (P/N: 7400180005X00)