NEXCOM ushers in the 5G network with 100 Gigabit Ethernet (GbE) to alleviate mounting pressure on data center and telecommunications infrastructure. Arriving with advanced baseboard designs and optimized data plane packet processing, NEXCOM's 100 GbE LAN modules, NC 220Q28M and NC 220Q28M2, can yield high small packet performance of 88 million packets per second (Mpps), offering data centers and telecom companies a throughput boost without a drastic increase in the total cost of ownership (TCO).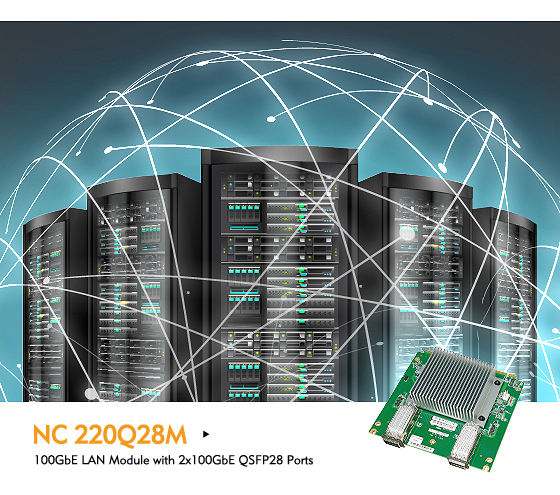 The 100 GbE LAN modules, NC 220Q28M and NC 220Q28M2, are built on a synthesis of breakthroughs in hardware and Data Plane Development Kit (DPDK). NC 220Q28M and NC 220Q28M2 are architected with low-reflection coaxial vias, fabricated with low-loss baseboard materials, and populated with capacitors which can suppress simultaneous switching noise (SSN) to ensure signal integrity in high-speed signal communication. Moreover, NEXCOM has improved DPDK libraries and drives with optimized parameters for both small and large packet processing, so the 100 GbE LAN modules can reach the wire speed in handling 768-byte packet traffic and 88 Mpps of throughput in more demanding small packet (64-byte) forwarding[1].
The 100 GbE LAN modules support the multi-host configuration and network virtualization acceleration to achieve an outstanding cost/performance balance. High-speed connection to processor(s) is made through one PCIe 3.0 x16 interface on NC 220Q28M and two PCIe 3.0 x8 interfaces on NC 220Q28M2. Both modules have two 100 GbE LAN ports while hardware-based I/O virtualization and network overlay protocols are supported for software-defined infrastructure. As a result, data centers and telecom companies can reduce upfront hardware investment and consequent utility and maintenance expenses by processing more network traffic with less network appliances, gaining the upper hand in a non-stop race with exploding network traffic.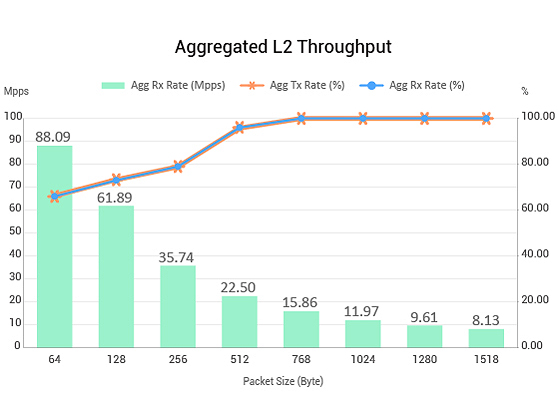 Main Features
Mellanox Technologies MT27700 Family ConnectX®-4
Supporting up to 2x 100 GbE QSFP28 ports
Ordering Information
Model Name
Controller
Bypass
Link Speed
Media Type
I/O Ports

NC 220Q28M
(P/N: 10S30022002X0)

MT27708A0-FDCF-CE
(Single-host)

0

100G

Fiber

2x QSFP28

NC 220Q28M2
(P/N: 10S30022005X0)

MT27708A0-FDCF-CEM
(Multi-host)

0

100G

Fiber

2x QSFP28
[1] Systems used in performance tests may have been optimized for performance. Results are provided for informational purposes only. Performance tests, such as RFC2544 test, are measured using specific computer systems, components, software, operations, and functions.