NEXCOM's EtherCAT General Motion Control (GMC) Solution, NET 200-GMC, facilitates multi-axis coordination for robotic production lines. Targeted at system integrators (SIs) for industrial automation, the NET 200-GMC Solution features high EtherCAT Master-Slave compatibility, and SoftMotion support. SIs can obtain configuration freedom by incorporating desired EtherCAT slaves into multi-axis motion control systems as well as industrial robots, enjoy programming simplicity to attain required functionality and intended efficiency, and therefore accelerate time to market of new inventions.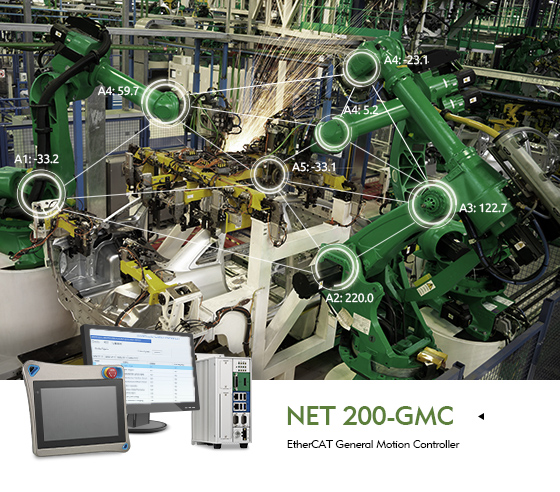 The NET 200-GMC solution embodies the EtherCAT Master controller NET 200 and motion development environment NexGMC to simplify engineering efforts throughout the development processes and is supplemented with the teach pendant TP-100VGA for robot applications.
The bundled high performance EtherCAT Master controller is capable of directing multi-axis movements for machine automation and kinetic control required of robot applications. Following standard EtherCAT technology, the EtherCAT Master controller is a Class A EtherCAT Master device which ensures interoperability with and fluid operations of integrated third-party EtherCAT slaves.
To simplify EtherCAT slave configuration, the NET 200-GMC solution requires no prior EtherCAT and CiA 402 knowledge of SIs because NexGMC can automatically detect, call, and test EtherCAT slaves—such as EtherCAT servo drives and EtherCAT I/O modules—and CiA 402 axes connected to the EtherCAT Master controller. As for motion configuration, NexGMC includes motion scripts for SoftMotion and supports C/C++ programming to realize high level functionality of automated control systems and robots.
Dedicated to robot applications, the teach pendant TP-100VGA can offer numerous possible functions. Leveraging the large 10.1-inch multi-touch screen of the TP-100VGA, robot makers can create numerous on-screen buttons for desired functions without being limited to the number of physical buttons on traditional teach pendants. Meanwhile, critical functions such as emergency stop and dead man's switch remain physical and the effectiveness is assured by the redundant channel mechanism. Developed with the comfort of robot operators in mind, the teach pendant is large yet light and offers several ergonomic, palm-fitting features for anti-drop protection and long-hour use.
NET 200-GMC Configurations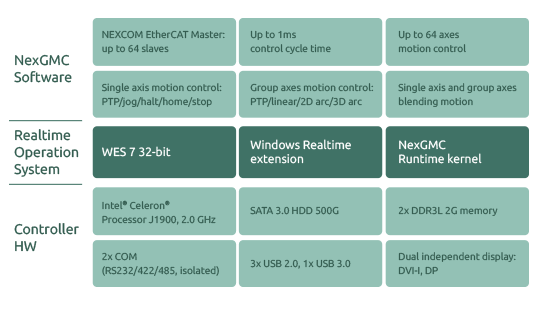 Main Features
Motion control up to 64 axes with an 1ms response time
I/O control up to 2048 points (or 32 NEIO devices)
Single axis control functions: PTP/jog/homing/halt/stop
Single axis blending motion: aborting/buffered/blending
Single axis override functions: position/velocity/acceleration/deceleration
Supported axes groups: Cartesian coordinates/SCARA/Delta/articulated robot (6 Axis)
Supported axes group commands: PTP/linear/2D arc/3D arc
TP-100VGA with 10.1" touchscreen, multi-channel design on dead man's switch and E-Stop button, and EMC compliance
Ordering Information
NET 200-GMC (P/N: TBC)