As big data will become a key basis of competition, NEXCOM is going to demonstrate its high CP value communication appliance and industrial grade Wi-Fi solutions that can help enterprises win in the combat at Mobile World Congress 2014, from February 24 to February 27.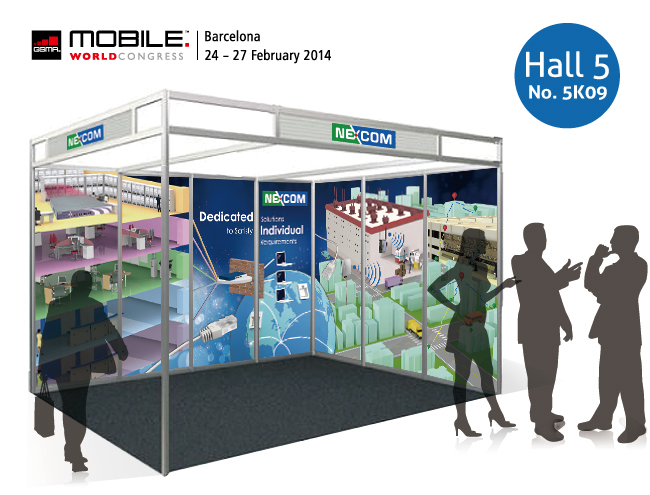 For telecom applications, NEXCOM has developed the ATCA blade platform TCP 9620 to respond to the demands of vast and highly intricate network structure. TCP 9620 is designed to meet NEBS Level 3 standards and to address the heightened degree of accountability, flexibility and high throughput required to secure the telecom infrastructure.
In addition to the telecom blade platform, NEXCOM will present its latest communication appliances utilizing the latest Intel® Core™ and Xeon® processor technologies, such as NSA 9130, NSA 5150, and NSA 7130 for the enterprise segment, and DNA 1150 and DNA 120 for small and medium enterprise (SME) segment. Besides the x86 architectures, NEXCOM will also present the networking platform utilizing Freescale™ OorIQ™ processor and the specially-designed industrial firewall IFA 3610 to give additional protection to machinery and equipment installed on the secure side of the firewall.
As the backend infrastructures are guarded by NEXCOM networking security platforms, NEXCOM industrial Wi-Fi solutions act as frontier guardians of Wi-Fi applications. Different from consumer-grade Wi-Fi gear, the Wi-Fi solution applied to vertical applications must provide reliable connectivity and useful functions including mesh, roaming, redundancy, and security management. At MWC, you will see a full spectrum of NEXCOM Wi-Fi solutions consisting of managed industrial Wi-Fi, hotspot Wi-Fi, and security Wi-Fi. Come and visit us at Booth 5K09 and learn more cutting-edge technologies.
Event Details
Date: February 24-27, 2014
Venue: Barcelona, Spain
Exhibition Center: L'Hospitalet de Llobregat
Booth: Hall 5, No. 5K09