NEXCOM's 3.5" board, EBC 310X, gets upgraded to support wide operating temperature ranges of -40°C to 85°C, and receives conformal coating for added protection. With a sleek profile of 146mm x 105mm, the 3.5" board aims to serve as a reliable platform for embedded industrial applications requiring small, yet thermally resilient hardware with optimal balance of power and performance. The compact, reliable, and thermal resistance of EBC 310X makes it ideal for outdoor environments with extreme cold and heat such as traffic control, railways, coal mines, and rural gas stations. The rugged design also makes it perfect for harsh industrial control and automation environments such as weather stations in snowy mountains and deserts.
Specially designed for wide temperature fluctuating environments, the 3.5" board is built with industrial grade hardware: Intel® Atom™ processor E640T System-on-Chip (SoC), on-board memory, transformers, LAN controller, X'TAL and power components. All components are carefully selected, laid out, and tested under the IEC-68-2-14 standard to ensure that it operates stably and reliably within temperature ranges of -40°C to 85°C. Furthermore, the small footprint, low power consumption SoC processor is rated for wide temperature, which perfectly meets the thermal constraints of embedded applications.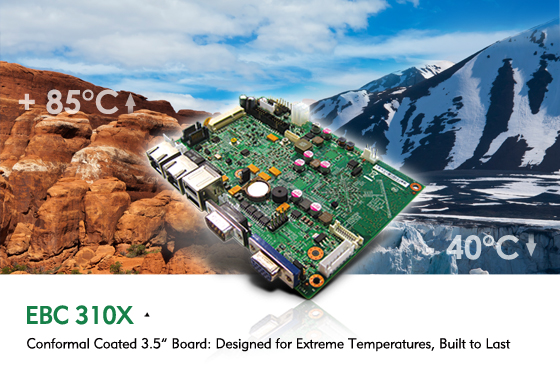 Conformal Coating/De-Flux Cleaning Process
NEXCOM's conformal coating gives embedded boards extra protection from hazardous substances such as dust, chemicals, moisture, corrosion, and intense temperatures. What makes NEXCOM's conformal coating stand out is the de-flux cleaning technology applied in the process. NEXCOM's first-class de-flux cleaning system cleanses the PCB exhaustively before coating. This process will improve the quality of conformal coating, increasing overall stability of the embedded boards. In addition, NEXCOM conformal coating and cleaning services conform to IPC-A610, IPC-CC-820 and IPC J-STD-001E regulations, promising quality, reliability and stability.
Main Feature
Conformal coating included
Support wide operating temperature - 40°C to + 85°C
Intel® E640T Ultra low power consumption SoC
On-board DDR2 1GB main memory
VGA/ LVDS display
Two Gigabit Ethernet
Support video decode (MPEG2, MPEG4, H.264, VC1, WMV9)/ encode (MPEG4, H.264)
One CAN controller
3x COMs, 5x USB 2.0, 2x SATA
Single DC12V power input
Ordering Information
EBC 310X (P/N: 10E00310X00X0) RoHS Compliant
Ultra low power embedded board with Intel® Atom™ E640T processor, on-board DDR2 1GB memory, VGA/ LVDS, 1x CAN, 2x GbE, 1x mini-PCIe, 3x COM, 6x USB 2.0, DC12V input