NEXCOM COM Express Type 6 Basic module ICES 668 features the 3rd generation Intel® Core™ processor family paired with mobile Intel® QM77 Express Chipset. It supports from dual-core i3-3217UE to quad-core i7-3615QE processor and up to 16GB DDR3 1333/1600MHz SDRAM with error correction code (ECC) function.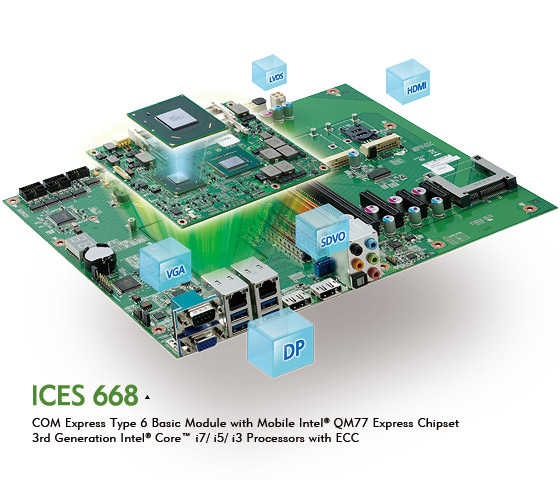 With the integrated Intel® HD Graphics 4000 and DirectX 11 support, the COM Express ICES 668 can simultaneously drive three independent displays. This computer on module also integrates USB 3.0, SATA 3.0 and PCIe 3.0 interfaces, all living up to the latest industrial standards to allow for high speed communication with peripherals. Thanks to the Intel® 22nm technology, ICES 668 is powerful yet energy-efficient.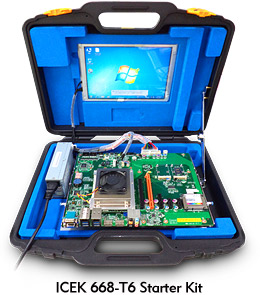 To facilitate rapid deployment of individual project designs, NEXCOM is offering ICEK 668-T6 Starter Kit, which includes the COM Express Basic module ICES 668, the reference carrier board ICEB 8060, built-in 4GB system memory with ECC function, pre-installed trial version of Microsoft Windows® 7, bootable 8GB CFast SSD, 10.4" LCD panel and Flex ATX power supply. With the development toolkit, users can immediately assess the full set of I/O functions supported by ICES 668, quickly come up with design modifications and therefore accelerate project implementation.
Main Features
PICMG COM.0 Rev. 2.0 Type 6 Basic module (95mm x 125mm)
Support 3rd generation Intel® Core™ i7/ i5/ i3 processor family with ECC
Mobile Intel® QM77 Express Chipset
Dual DDR3 1333/1600MHz SO-DIMM sockets for up to 16GB ECC memory
3x independent displays: VGA, 18/24-bit LVDS, DVI, HDMI, DisplayPort
1x PCIe x16, 7x PCIe x1, 4x USB 3.0, 8x USB 2.0, 2x SATA 3.0, 2x SATA 2.0 and GbE
Ordering Information
ICES 668-3610ME (P/N: 10K00066806X0)
COM Express Type 6 Basic module based on 3rd generation Intel® Core™ i5-3610ME processor (2x 2.7GHz, 3M Cache, 35W) paired with mobile Intel® QM77 express chipset, ECC DDR3/2x SO-DIMMs
ICES 668-3615QE (P/N: 10K00066805X0)
COM Express Type 6 Basic module based on 3rd generation Intel® Core™ i7-3615QE processor (4x 2.3GHz, 6M Cache, 45W) paired with mobile Intel® QM77 express chipset, ECC DDR3/2x SO-DIMMs
ICES 668-3555LE (P/N: 10K00066804X0)
COM Express Type 6 Basic module based on 3rd generation Intel® Core™ i7-3555LE processor (2x 2.5GHz, 4M Cache, 25W) paired with mobile Intel® QM77 express chipset, ECC DDR3/2x SO-DIMMs
ICES 668-3517UE (P/N: 10K00066803X0)
COM Express Type 6 Basic module based on 3rd generation Intel® Core™ i7-3517UE processor (2x 1.7GHz, 4M Cache, 17W), paired with mobile Intel® QM77 express chipset, ECC DDR3/2x SO-DIMMs
ICES 668-3217UE (P/N: 10K00066801X0)
COM Express Type 6 Basic module based on 3rd generation Intel® Core™ i3-3217UE processor (2x 1.6Ghz, 3M Cache, 17W), paired with mobile Intel® QM77 express chipset, ECC DDR3/2x SO-DIMMs
ICEK 668-T6 (Subject to project registration)
ICES 668 based on the 3rd Generation Intel® Core™ i7/ i5/ i3 processor paired with mobile Intel® QM77 express chipset, reference carrier board ICEB 8060, built-in 4GB system memory with ECC function, pre-installed trial version of Microsoft Windows® 7, bootable 8GB CFast SSD, 10.4" LCD panel and Flex ATX PSU AC 110/220V input