NEXCOM's in-vehicle computer, VTC 1010, provides the performance, reliability and scalability required to build a connected vehicle that can address the needs of fleet management. Based on the Intel® Atom™ processor E3800 product family (formerly codenamed "Bay Trail"), VTC 1010 features wide operating temperature range, dual WWAN and SIM, built-in GPS with optional dead-reckoning, intelligent vehicle power management and four mini-PCIe expansions. VTC 1010 can deliver the telematics technology for real-time voice and data communication, vehicle tracking and navigation, mobile video surveillance as well as in-vehicle infotainment.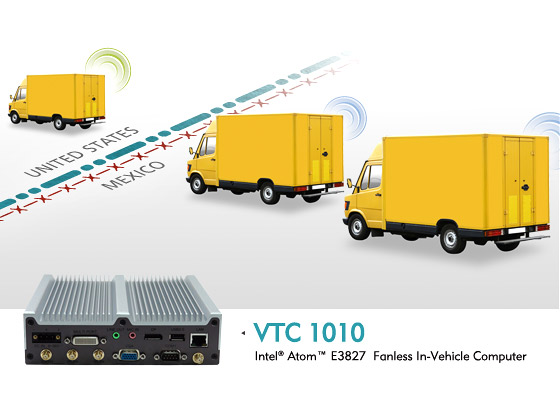 The VTC 1010 supports Intel® Atom™ E3815 or E3827 processors, which offer significant improvements in computing performance as well as graphics and media capabilities with integrated Intel® Gen 7 Graphics. This enables VTC 1010 to address different computing needs while providing stereoscopic 3D and Full HD video playback capabilities to enhance the in-vehicle infotainment experience. Furthermore, the system-on-chip (SoC) architecture of the processors allows VTC 1010 to achieve a fanless design with wide operating temperature of -30 to 70 degrees Celsius and a compact form factor for use in harsh vehicle environments.
To adapt to the harsh power supply conditions within vehicles, VTC 1010 features built-in power ignition on/off delay control and low voltage detection. In addition, to withstand the rigors of shock and vibration in transportation and provide reliable operation, VTC 1010 is compliant to MIL-STD-810G and e13 certification.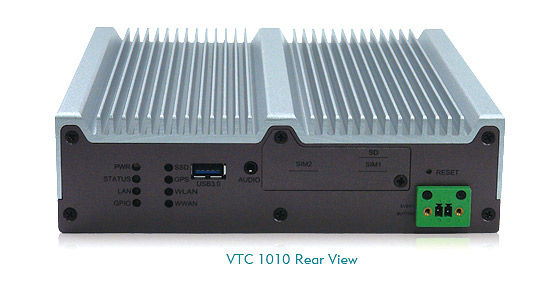 To ensure scalability, VTC 1010 offers dual SIM sockets to allow seamless switching between different carrier networks to minimize roaming cost. It also features four mini-PCIe slots that can be configured with dual WWAN modules to double the bandwidth of the cellular connection, while still allowing expansion for WLAN and PAN connections. Equipped with a CAN bus 2.0B interface with optional OBDII function, as well as WWAN wake-up support, VTC 1010 can provide remote monitoring of vehicle diagnostics and can be powered on by SMS or dial up for maintenance during off-hours.
Designed to streamline fleet management operations, the VTC 1010 features built-in GPS module with optional dead-reckoning support to allow fleet operators to track vehicles in tunnels or areas where satellite signals are blocked. It also supports two-way voice communication and event button function to provide emergency voice communications and alerts for drivers, enabling control centers to respond instantly to urgent situations and take appropriate actions.
Main Features
Dual SIM card + dual WWAN module support
Built-in GPS, optional dead reckoning support
Built-in Gyroscope, Accelerometer, and Magnetometer
Intelligent vehicle power management: wake-up on ignition, RTC timer and remote dial up
Four mini-PCIe expansion slots
Two-way voice communication support
Compliant with MIL-STD-810G
Ordering Information
VTC 1010-BK (P/N: 10V00101000X0)
Intel® Atom™ processor E3827 1.75GHz CPU, 2GB DDR3L SO-DIMM, VGA/DP Output, 1 LAN, 2 x RS-232, 1 x RS-422/485, 3 x DI, 3 x DO, 3 x USB, 12VDC output