NEXCOM has released the fanless computer NISE105 based on the Intel® Atom™ processor E3800 product family (formerly codenamed "Bay Trail") to construct IP-based intelligent systems for the connected factory. The NISE105 offers excellent performance per watt, full HD 1080p capability, rich connectivity interfaces and high reliability even operating in temperature extremes. Adding to that, the NISE105 has a small footprint and is designed for easy installation and maintenance. This fanless computer can fulfill needs of various factory automation applications ranging from data acquisition server for big data analytics to high-level PC-based automation controller.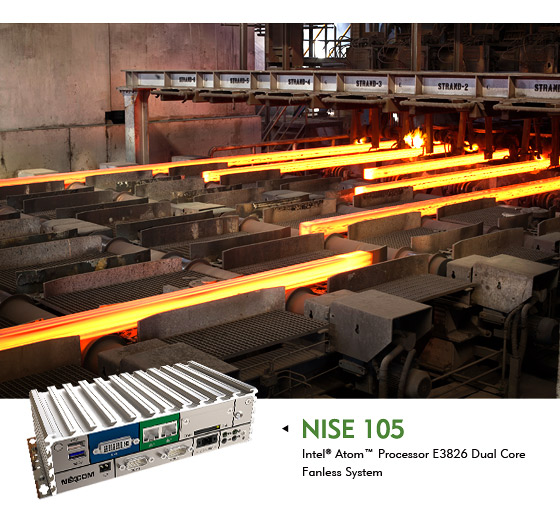 "Heading for an intelligent connected factory, the NISE105 is positioned as a "Control, Communication and Computing" three-in-one PC-based automation server. Powered by Intel Atom™ processor E3800 product family, the NISE105 boasts satisfying and scalable computing power and compact fanless design to manage field data, control industrial robot arms, drive two full HD displays, yet consume very little energy. PC-based controller, fieldbus concentrator, vision inspection, M2M server, and IP-enabled data acquisition system are just some of the use cases of NISE105," said Joe Lin, NEXCOM's General Manager of the Industrial Computing Solutions Business Unit.
"Based on the 22nm Silvermont architecture, the Intel® Atom™ processor E3800 product family is available in single-, dual- and quad-core SoC processors integrated with Intel® Gen 7 graphics. This new SoC family provides different levels of performance, energy efficiency, and media processing capability, suited to the growing needs of intelligent systems," said Sam Cravatta, product line manager, Intel Intelligent Systems Group.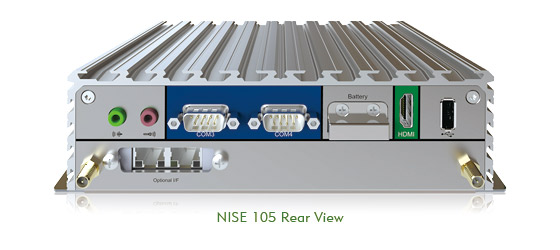 To connect to field devices, the NISE105 has dedicated interfaces on both front and rear sides, offering a wide selection of communication ports and PC interfaces, including the latest USB 3.0, 2x Intel GbE LAN, and 4x COM ports. With one mini-PCIe slot, the NISE105 can be turned into a M2M communication platform which supports 3.5G/LTE connectivity or fieldbus communication used in factory automation. Designed for usability, the front-accessible CFast and SIM slots and the removable real-time clock (RTC) battery on the rear side are user-centered designs that allow easy retrieval and quick replacement.
Main Features
Intel® Atom™ processor E3800 product family
Support up to 4GB of DDR3 memory
Support dual full HD displays with support for DirectX 11
Support 1x USB 3.0, 2x USB2.0, 2x Intel GbE LAN, 4x COM ports
1x mini-PCIe expansion slot for LAN, fieldbus and 3G communication modules
Wide operating temperature range from -20~70°C
Ordering Information
NISE105 (P/N: 10J00010500X0)
Intel® Atom™ Processor E3826 Dual Core Fanless System