NEXCOM's fanless computer NISE series and Panel PC were the star attractions on the NEXCOM booth at Hannover Messe 2012. At this prestigious five-day event, NEXCOM presented a wide range of innovations for industrial automation and control.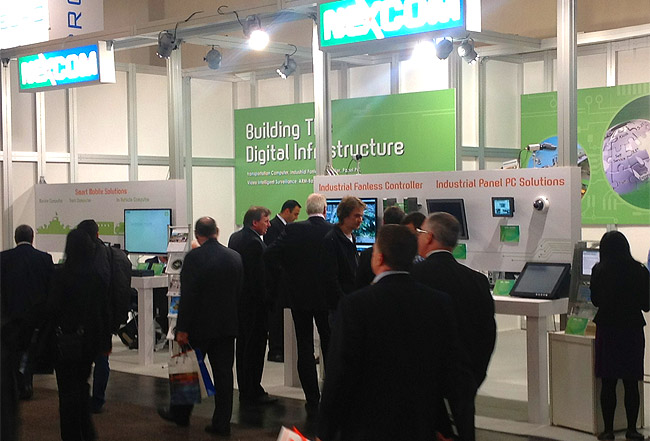 A powerful and compact embedded system is important for automation operations and is directly relevant to the cost of ownership. NEXCOM's rugged fanless computer NISE series including NISE 3600E and NISE 104 were in the spotlight at this automation trade fair because of their neat design, unrivalled functionality and value for money. Powered by 2nd generation Intel® Core™ i5/ i3 rPGA socket type processor, the NISE 3600E fanless computer is specially targeted at graphic-intensive computing applications and can support three independent displays which means users do not need to purchase three separate computers. Another product making its debut at Hannover Messe 2012 is the tiny, but versatile NISE 104 fanless industrial controller which has a powerful on-board 1.86 GHz processor and excellent graphics handing capabilities including 1080P. With Support for dual independent digital display via DVI-I and HDMI outputs and wide range of power inputs from 9V to 36V, NISE 104 is perfect for use in Kiosk applications or Smart Policing type projects.
The other star products on the NEXCOM booth were Panel PC solutions, such as APPC0820T and FPPC 1220. NEXCOM is providing a wide array of specialized Panel PCs for factory, medical, mining, and other automation fields. The 12.1" factory automation control Panel PC FPPC1220 is a falness panel computer with Intel® Atom™ D425 processor. Constructed with an IP65 compliant, aluminum front bezel, FPPC1220 can work well under any harsh industrial environments. In addition, the 59-key keyboard and control panel for machinery applications also caught visitor's imagination.
To learn more about NEXCOM's solutions in Fanless Computers and Panel PC, please visit www.nexcom.com