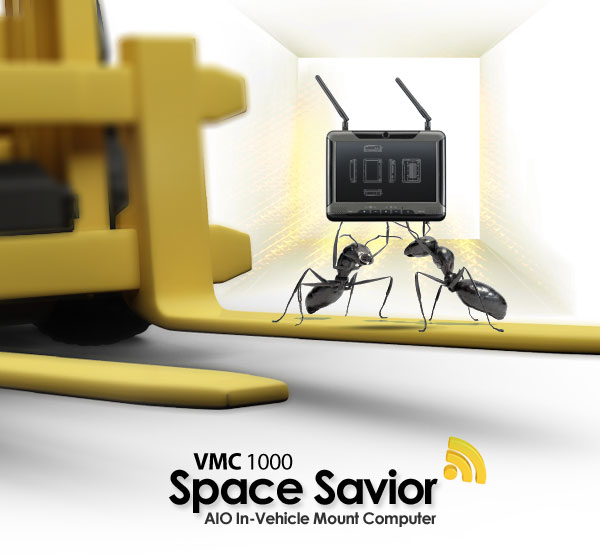 NEXCOM 7" all-in-one (AIO) vehicle mount computer VMC 1000 is to fulfill users' needs at a competitive value. VMC 1000 featuring an incredibly compact, vibration resistant, and IP54 rated exterior and smart power management mechanism, is ideal use in in-vehicle computing applications. With the aim of delivering consistent performance in outdoor or mobile environments, VMC 1000 offers first rate communication connectivity and is therefore perfect for telematics, vehicle tracking, fleet management, and transportation type applications.
VMC 1000 integrates a telematics computer and 7" LCD touch screen to provide an AIO solution which is specifically designed for in-vehicle operation. It measures 185.4mm wide, 50.42mm high, and 141.4mm deep and therefore can be slotted into space-limited environment including heavy-duty off-road equipment. Not only is the size of VMC 1000 reduced, its AIO design removes redundant cables, allowing easy installation and maintenance.
VMC 1000 also places a premium on power management. VMC 1000 is based on 1.0GHz Intel® Atom™ processor E640 which reduces energy consumption and imposes fewer burdens on a vehicle battery. It supports a 6~36V power input, low voltage protection and ignition delay. These measures can help the vehicle mount computer adapt to different power supply types, overcome voltage fluctuations, and prevent drain.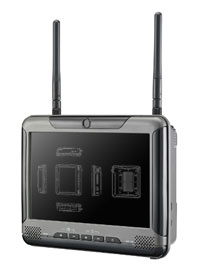 When designing the VMC 1000, the environmental conditions in which the unit would be placed were given careful consideration. For instance, VMC 1000 passes an environmental evaluation based on MIL-STD-810F. It has high level of vibration resistance and can therefore be utilized in bumpy off-road environments. The 500-nit high resolution LCD panel and automatic brightness control enable the VMC 1000 to be viewed outside. Furthermore, VMC 1000 can also be configured with a low reflection touch screen upon request for use in strong ambient light. The IP54 housing will ensure the vehicle mount computer can withstand exposure to dust and water.
Moreover, VMC 1000 is packed with GPS functionality for data transmission. It also supports Wi-Fi/WWAN expansion, RS-232/422/485, USB 2.0, GPIO and LAN signals. VMC 1000 as a telematics solution can receive dispatched tasks, increase yields and improve efficiency for business.
Target Application
Telematics
Vehicle tracking
Fleet management
Transportation
Main Feature
7" WVGA TFT LCD with LED backlight
Compact and fanless design
Built-in 1.0GHz Intel® Atom™ processor E640
Wake on RTC /SMS
GPS receiver on board
Variety wireless communication options
Wide Range DC input from 6~36V
Compliant with IP54
Certified by CE/ FCC/ e13 Mark
Ordering Information
VMC 1000 (P/N: 10VC0100000X0)
7-inch All in One Vehicle Mount Computer with Touch Screen and Smart Brightness Control and Intel® Atom™ E640 1.0Ghz processor with 1GB DDR2, GPS module and GPS antenna.