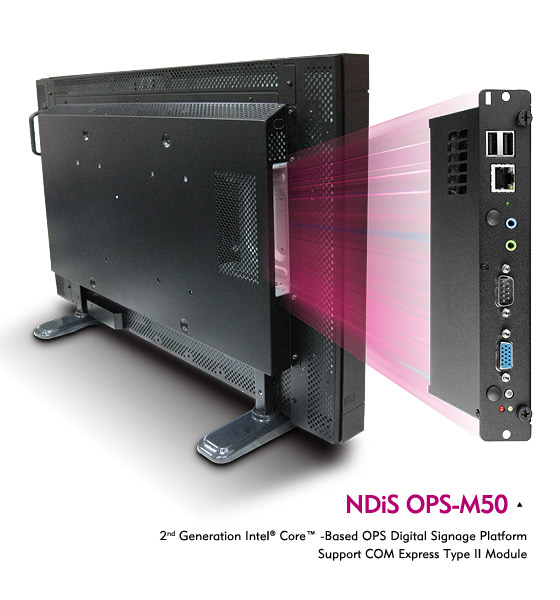 NEXCOM digital signage player NDiS OPS-M50 complies with Intel Open Pluggable Specification (OPS) aiming to simplify installation, upgrade and maintenance of large scale digital signage applications. NDiS OPS-M50 is equipped with Mini PCIe and slim SATA SSD, and therefore packs functionality and storage capacity into a small footprint which can meet various requirements.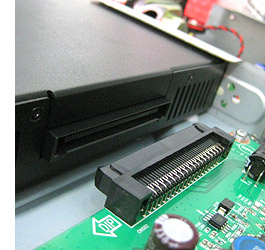 Digital signage player NDiS OPS-M50 based on 2.50 GHz Intel® Core™ i5-2515E Dual Core processor with Intel® Integrated Graphics 3000, follows Intel OPS. The player which measures 200mm wide, 30mm high, and 119mm deep, is a space saving device designed to be plugged into a display. The player also requires fewer cables by supporting DVI, UART, and USB2.0 signals via JAE 80-pin connector. NDiS OPS-M50 can therefore simplify system deployment and lower installation costs. It also allows easy maintenance and upgrade by player replacement without dismantling the whole system.
In addition, the digital signage player adopts the COM Express concept instead of single board approach. The feature enables the IT administrator to update the NDiS OPS-M50 in line with the latest processor micro-architecture. This scalability not only reduces maintenance costs for clients, it also extends the life cycle of the unit and future-proofs the investment.
NDiS OPS-M50 features functional extendibility. It houses two Mini-PCIe slots and three antenna holes, which enable connection to a 3G/ Wi-Fi module and/ or TV tuner; and therefore supports remote system management, content updates and TV broadcast. In addition, the expansion slots are located underneath a screw fixed cover which protects the Mini PCIe module against theft.
Also protected by the cover is SATA Slim SSD, an alternative to 2.5" SATA storage unit. The SATA Slim SSD employed by the compact scalable player has small footprint yet high capacity and can adapt to a wider range of temperature, allowing the player to meet environmental challenges and avoiding premature failure.
Main Feature
Embedded Intel® Core™ i5-2515E Dual Core Processor
Intel® Integrated Graphics 3000
Design compliant with Open Pluggable Specification
Slot-in integration, easy maintenance
Supports DVI, UART, and USB2.0 via JAE 80-pin connector
TV tuner/ WLAN support
Ordering Information
NDiS OPS-M50 (P/N: 10W000OPS00X0)
NEXCOM ICES-267S COM Express card
Onboard Intel® Core™ i5-2515E Dual Core Processor
Intel® QM67/ HM65 PCH