AIoT, the marriage between IoT and AI, is driving – no pun intended – the potential of AI-enabled transportation and automation solutions, as well as Advanced Traffic Management Systems (ATMS). That's why NEXCOM's Mobile Computing Solutions group is thrilled to introduce the ATC 3200, a compact, AI-enabled gateway suitable for both in-vehicle and stationary applications. Comparable to embedded boxes but with more functionality, the fanless computer features MIPI SerDes camera serviceability, 5G sub-6GHz communication capabilities, in-vehicle ignition control, software support, and ruggedized design, ensuring that it's the perfect combination of AI capabilities at a bargain price point.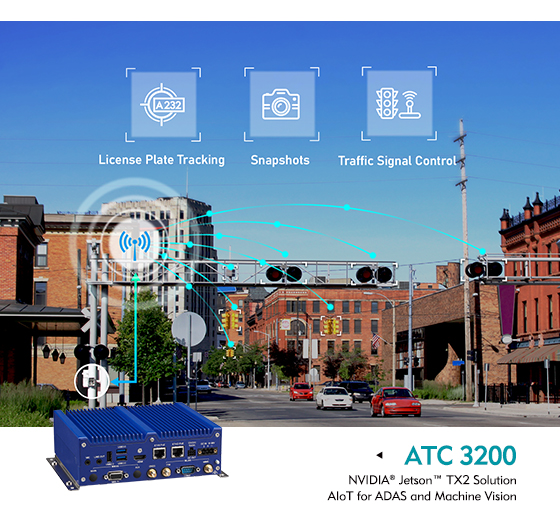 Make the most of AI capabilities
The fanless AI edge computer is powered by NVIDIA® Jetson™ TX2 GPU, selected for its superior computing performance (up to 1.3 TFLOPS) and price-performance ratio. With its reliability, connectivity, and low power usage, the inclusion of the GPU makes the ATC 3200 the perfect fit not only for in-vehicle AI recognition uses, such as ANPR, autonomous driving/ADAS, and enhanced telematics, but even ATMS and other stationary purposes in public transportation, public works, parking lot management, and factory automation – just to name a few.
Watch and learn
For in-vehicle AI recognition and factory automatic machine vision tasks, the ATC 3200's GPU pairs naturally with up to four MIPI SerDes cameras. MIPI cameras have lower latency than typical IP and USB cameras, delivering uncompressed, high-resolution snapshots of up to 4K at 30fps, while costing less money and consuming less power. More conveniently, SerDes technology allows them to reach up to 15m and 25m, longer than other cameras.
Dense yet powerful design
Don't let the compact size of the AIoT edge gateway fool you: it's ruggedized and features a host of I/Os. The ATC 3200 can operate in a wide temperature range of -30 to 70°C, withstand vibration and shock to MIL-STD-810G standards (vibration: up to 7.7g), meets CE and FCC Class A regulations, and has received e-Mark certification. The rich I/O selection includes two each of GbE and PoE ports, perfect for powering LiDAR or GigE Vision cameras; expansion ports designed for 5G sub-6GHz modems providing ultra-low latency transmissions (M.2 Key B) or video capture cards (mini-PCIe); and CAN bus. To complete the entire system, the in-vehicle gateway also includes ignition control and GNSS.
Client-ready software solutions
Purchasing new hardware often requires additional time searching for and procuring a separate software package to run your system. But NEXCOM makes life easier by including software support. All drivers are ready to go with our BSP, which includes NV Jetpack 4.4, MCU library (for ignition), and G-Sensor library/drivers. We also include AI recognition demos on Docker containers, as well as related protocol command documentation.
Main Features
AIoT Edge gateway for ADAS and smart factory applications
Built-in NVIDIA® Jetson™ TX2 SOM, up to 1.3 TFLOPS compute
Compact, rugged, and fanless design
4-CH MIPI SerDes cameras reach over 15m/25m distance
Operates over a wide temperature range of -30~70°C
Two GbE with PoE for LiDAR or GigE Vision/IP CAM
Diverse image storage: eMMC, SD, and 2.5" SSD
Optional LTE/5G NR, Wi-Fi, and GNSS modules
Rich I/O ports: USB 3.0, OTG, COM, DI/DO, CAN and 12V/5Vdc, etc.
9~36V DC-IN with ignition control
CE/FCC and Emark certified
Sustain the vibration up to 7.7G (MIL-STD-810G)
Ordering Information
ATC 3200 (P/N: 10AT0320000X0)
AIoT, NVIDIA® Jetson™ TX2 SOM w/ 8GB DDR4, WLAN, 32GB eMMC, 2 x COM, 2 x PoE GbE (RJ45), 2 x USB 3.0
ATC 3200-4M (P/N: 10AT0320001X0)
AIoT, NVIDIA® Jetson™ TX2 SOM w/ 8GB DDR4, WLAN, 32GB eMMC, 2 x COM, 2 x PoE GbE (RJ45), 2 x USB 3.0, 4-ch MIPI SerDes
CAM1-MT1080
Appro MIPI SerDes CAM w/ enclosure, 1080p60, AP-AR0234GSC-ISP-S-SerDes (V-by-One®), 5m cable
CAM1-MT720
Appro MIPI SerDes CAM w/ enclosure, 720p30, AP-AR0144GSC-ISP-S-SerDes (V-by-One®), 5m cable