In today's technological advanced world, healthcare professionals have begun to rely on imaging data to detect, characterize and monitor diseases. Imaging technologies are able to assist qualified caregivers in performing timely and quality bedside services for inpatients. Extending from its expertise on smart city solutions, NEXCOM's X200 embedded board offers the best solution for healthcare industries worldwide. Fueled by Intel's latest integrated GPU, Iris® Xe, the X200 is intended to improve various graphic intensive tasks in the healthcare industry, such as, visual inspection or imagery analysis. Visual decoding requires considerable compute resources and the embedded AI enables fast, reliable, predictive and reactive intelligence based on collected data provided by the healthcare professional. Its solid graphic capabilities render 4K to multiple displays with ease. Moreover, its expandability for wireless and storage options makes it applicable for a variety of scenarios.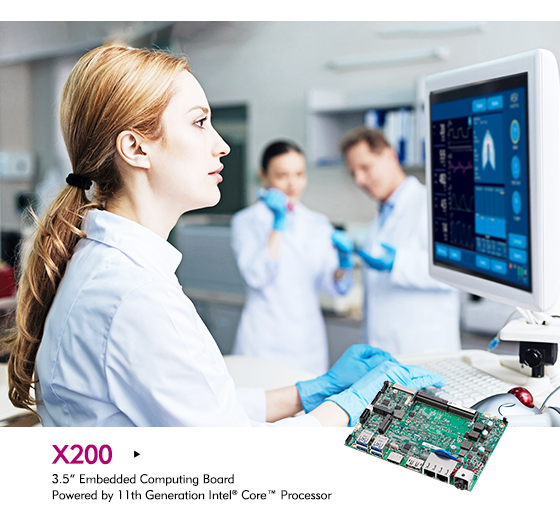 Enhance Vision Inspection capability with Intel® Iris® Xe Graphics
The latest Intel® Iris® Xe integrated graphics packs 96 execution units, delivering about 50% performance improvement, as well as 5x greater AI performance when compared to its predecessor. With the combination of embedded AI, and 11th Gen Intel® Core™ (Tiger Lake-UP3) processor with integrated Iris® Xe, the X200 puts significant emphasis on graphics. Supporting M.2 Key M 2280 with PCIe x4 for HDMI 2.0 input capture card, it is able to provide high-resolution and color accurate imaging. Therefore, it serves as a qualified solution in performing visual inspection and diagnosis for patients' complications of tumor tissues, tiny bone fractures and many other types of surgery operations for clinical reviews. The 4K at 60Hz flawless imaging offered by X200 will significantly reduce the time spent and effort taken by physician or imagery professionals on preliminary checkups, and also prevent the possibility of serious misdiagnosis.
Enjoy True 4K Multi-Display Experience
Thanks to the newest 11th Gen Intel® Core™ (Tiger Lake-UP3) processor, the X200, without much effort, is capable of handling 4K visuals at 60Hz, while performing multi-display imaging of up to 3 displays simultaneously through either HDMI 2.0 and/or DP++. Moreover, designed for utmost convenience, healthcare professionals are able to connect the eDP from the internal display interface onto their panel PC and/or nursing car, producing the same crisp imaging of 4K @ 60Hz. The numerous types of display interfaces provided give end users the flexibility in terms of connecting to their compatible devices. The 4K flawless imaging brings even the smallest details in x-ray films to life, making automatic detection of abnormal x-ray imaging a reality. This form of visual inspection can assist healthcare professionals in increasing overall efficiency, making more accurate/reliable decisions and misdiagnosis prevention, ultimately, saving more valuable lives than ever. Other X200 applications used by end users that are worth noting would be access control and signage. Access control are often used found in high security settings such as, the NICU, where face recognitions are required. Whereas, signage applications can be seen throughout a hospitals' waiting area, advertising products intended to decrease patients' boredom and tension.
Embrace Wireless Connectivity
A rich set of I/O along with comprehensive connectivity is what sets the X200 apart from its competition. For instance, considering that the ultra-high resolution images saved daily by healthcare professionals would take up a substantial amount of storage space, X200 provides users with a SATA connector for 2.5" SSD and a Key M slot for Key M 2280 SSD, in which both can be used simultaneously. Moreover, the built-in M.2 2230 Key E supports add-on Wi-Fi modules to assist smart hospitals in connecting their network to the internet. With up to 8 USB ports and 2 COM ports, the X200 is able to connect a range of peripherals, from cameras to various medical devices, bringing convenience to end users, giving them the ability to immediately transfer data all at their fingertips. Designed to work in extended temperature range, -20°C to 60°C, this 3.5" board is not limited to just indoor hospitals but is also capable of performing outdoor tasks. With the extensive set of I/O support, stunning 4k imaging and the efficiency it can bring to end users, NEXCOM's X200 drives the future of healthcare.
Main Features
11th Gen Intel® Core™ (Tiger Lake-UP3) processor SoC
3.5" embedded form factor
Dual 4K @ 60Hz display output, DP++, HDMI 2.0
Supports 4K @ 60Hz eDP display output
Dual LAN ports and USB 3.0 ports for easy connection
DDR4 supporting up to 32GB, ensuring application responsiveness
TPM2.0 on-board, protects hardware and the boot process from malicious attacks
Watchdog programmable, automatically resets the processor whenever software anomalies are detected
iAMT supported, remote management solution intended to bring convenience for organizations and healthcare facilities
Onboard M.2 2280 Key M (PCIe x4) for storage modules
Onboard M.2 2230 Key E for optional Wi-Fi modules
Supports extended temperature and outdoor application CE/FCC Class B certified
ISO 13485 certified
Ordering Information
X200-i5 (P/N: 10W10X20000X0)
Embedded board with Intel® Core™ i5-1145G7E processor
X200-i3 (P/N: 10W10X20002X0)
Embedded board with Intel® Core™ i3-1115G4E processor