NEXCOM's video conferencing tool, ToGazer, serves as a simple way to gather people together around the world. Using a web browser, ToGazer enables users to easily share ideas, cooperate on projects, and have face-to-face conversations. Encouraging group discussion, peer collaboration, and team brainstorming, ToGazer is meant for stimulating communication among companies and clients, teachers and students, and family and friends for business, education, and leisure purposes.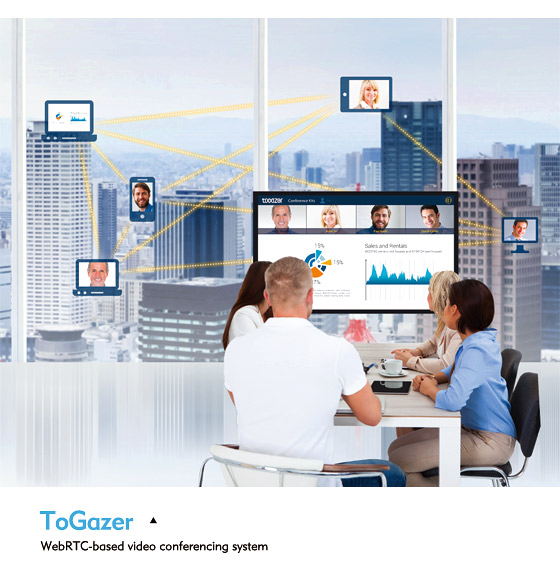 ToGazer is a web-based video conferencing tool that breaks geographical and physical communication boundaries to bring people closer. With ToGazer, users can use a web browser to attend video conferences anywhere, anytime and leverage functions such as a whiteboard, desktop and file sharing, and group messages for the dynamic exchange of ideas and effective communication.
It's "Meeting On Demand", "Joy On Demand" whenever, wherever, and whatever!
ToGazer can simultaneously hold up to eight conferences -- each with a maximum of two hundred participants, including sixteen video participants. Capable of running large video conferences and supporting group interactions, ToGazer can facilitate cross-department collaboration, online training, and innovation workshops in the business arena. For the academic sphere, ToGazer can spread knowledge by taking education to remote villages or broadcasting web symposiums that allow worldwide industry experts and scholars to contribute to debate during the session. ToGazer can also be used for leisure purposes, assembling family members that are far apart for a grand reunion.
The planning of multiple large conferences is easy with ToGazer. The video conferencing tool provides an event scheduling function to help conference organizers reserve virtual conference rooms and invite speakers and audience via email notifications.
The Community edition* of ToGazer is available for download at no charge at www.alliotcloud.com. The Community edition supports one meeting session and a maximum of ten participants--including four video participants--at a time. In the Community edition, users can share their desktop with and send a group message to other users. Mobile device support for smartphones and tablets is also included in the Community edition.
To enjoy richer features and to accommodate a larger size audience, users can opt for the Standard, Professional, or Enterprise edition. The Standard edition supports one conference with up to ten video participants, the Professional edition supports a maximum of four conferences with up to fifty participants including sixteen video participants, and the Enterprise edition supports eight conferences with up to two hundred participants including sixteen video participants.
* The Community edition has low system requirements. All ToGazer takes to run is an Intel® Celeron® Processor N3150, 4GB RAM, 50GB hard disk space, 100Mbps Ethernet with a static IP, and the Ubuntu 14.04 LTS operating system.
Main Features
Multiple endpoints
Desktop sharing
File sharing
Group messaging
Event scheduling
Email/notification
Ordering Information
ToGazer "Community" edition at www.alliotcloud.com
ToGazer "Standard/Professional" edition (P/N: TBC)
ToGazer "Enterprise" edition (P/N: TBC)