NEXCOM IoT gateway solution CPS 200 provides simple yet secure connection to the cloud for legacy industrial automation and control systems in operation. Based on Intel® IoT Gateway Technology, the CPS 200 features a unified user interface to streamline the configuration of various fieldbus protocols and cloud connection while shoring up security from the bottom to the top of data communication with layers of protection. With ease of deployment and enhanced security, the CPS 200 facilitates data acquisition and exchange between industrial control systems and between factories to the cloud, paving the way for Industrial Internet of things (IIoT) and factory automation applications.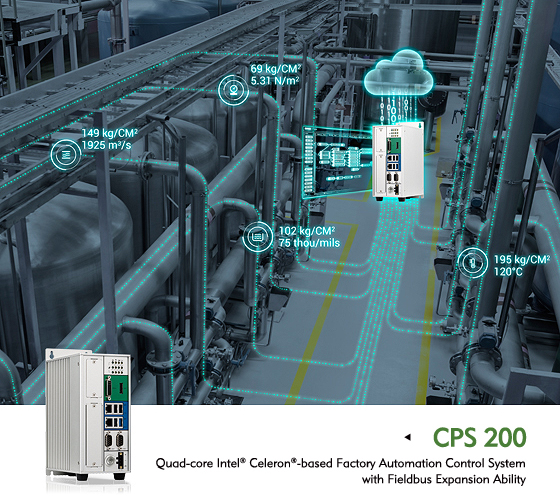 NEXCOM utilizes Intel IoT Gateway Technology with Wind River Intelligent Device Platform 3.1 to deliver interoperability, security, and manageability altogether with the IoT gateway solution CPS 200. "With support for two-way communication between factory floors and cloud platforms, the CPS 200 can not only harvest data from today's fragmented control network architecture for big data analytics in the cloud, but also allow for remote control and monitoring of factory operations through mobile access, living up to the value of OT-IT convergence," said Joe Lin, General Manager of NEXCOM's IoT Automation Solutions Business Group.
"Intel® IoT Technology Integrates Wind River® Intelligent Device Platform 3.1 with McAfee® Embedded Control to make it easier for NEXCOM customers to implement connected and secure IoT solutions in industrial settings," said Rose Schooler, vice president of IoT Strategy at Intel.
The CPS 200 provides interoperable connectivity to connect factories to the cloud. On the field and control level, Modbus® TCP/IP and Modbus® RTU, PROFINET®, PROFIBUS®, EtherNet/IP™, and OPC UA links are pre-validated to ensure reliable communication among different-branded systems using different protocols; while the gateway deployment is simplified by NEXCOM IoT Studio. NEXCOM IoT Studio is a built-in configuration tool which combines fieldbus protocol and cloud connection configuration into a unified user interface and supports MQTT and SQLite for fast gateway deployment and seamless integration with cloud platforms including IBM Bluemix® and Microsoft® Azure. The CPS 200 is powered by Intel® Atom™ E3800 processor and is available with Intel® Core™ processor configuration for SoftPLC controller and gateway 2-in-1 applications.
Main Features
Intel® IoT Gateway Technology with Wind River Intelligent Device Platform 3.1
Protocol support: Modbus TCP/RTU, PROFINET, PROFIBUS, EtherNet/IP, OPC UA, and MQTT
SQLite support for cloud database integration
NEXCOM IoT Studio with a unified user interface for the configuration of various fieldbus protocols and cloud connection
Ordering Information
CPS 200 (P/N: 10JC0020000X0)
Cloud-based IoT gateway system with quad-core Intel® Celeron® processor J1900, Moon Island 3.1
24V, 60W AC/DC power adapter w/ o power cord (P/N: 7400060024X00)