Surveillance has come into use with various considerations beyond security these days. Real-time visibility is of great importance in many scenarios. As studies shown that a comprehensive real-time video coverage for indoor and outdoor activities contributes to deterring harmful practices or illegal events, especially when people are aware of their activities are under close watch. The NViS 6504/6508 NVR features whopping storage capacity for 24/7 recording, strong CPU performance for image processing, and connectivity to include multiple cams for a wide coverage area. Both NVR storages are perfect for businesses planning a system upgrade or building new systems to address surveillance challenges.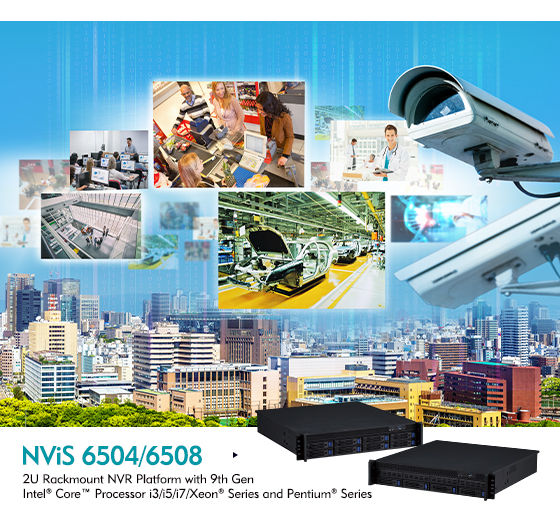 Housing more while doing it all
Designed with small and medium-sized businesses in mind, the NVR solutions are solid with class-leading performance to tackle storage projects of enterprise level while talented enough to multi-task on a more concise system. High capacity ensures less recursive overwrites on disks, meaning more recordings in higher resolutions can be kept for a longer period of time, invaluable when critical events arise. The built-in (ASPEED AST2500) BMC chip enables out-of-band (OOB) management, through which system administrators can turn on, reboot, or shut down a device, even if the OS is not functioning. Thanks to IPMI (Intelligent Platform Management Interface) 2.0, system status including essential parameters and event log is presented in a neat dashboard so that issues could be tackled well in time. The built-in TPM 2.0 technology ensures transmissions are encrypted, preventing sensitive information from unauthorized accesses.
A solid all-rounder
The Intel® 9th Gen processor offers incredible horsepower for smooth graphics rendering. Based on a Core™ i7-9700E and 32GB DDR-4 memory, the NViS 6504 decodes 4K resolutions and records 8M frame rates comfortably at 30 FPS with 10 channels connected. When recording frame rates tweaked down to 2M, this same configuration could support as many as 28 channels at 4K resolutions and 30 FPS, all parameters benchmarked by Milestone XProtect® software. The beefy NViS 6508 comes with 8 removable 3.5" trays in the front as well as 2 removable 2.5" trays in rear. Multiple RAID modes are supported for different storage configurations, offering max flexibility for system design and administration. Intel® Rapid Storage Technology (RST) delivers enhanced performance on multiple hard disk drives while LSI MegaRAID® software provides robust data protection and availability, fault prevention and recovery for business critical data.
Meeting challenges, big or small
The highly compatible NViS 6504/6508 work effortlessly with third-party VMS software, granting system builders extra flexibility in project delivery. The NVR appliance is ideal for extensive scenarios ranging from retails, logistics, construction, hotel and restaurants, manufacturing, to warehousing. Easily expandable, the versatile NViS 6504/6508 bring enterprise level integrity to protect more valuable assets.
Main Features
Supports Intel® 9th Gen processors: Core™ i3/i5/i7, Xeon® and Pentium® series
Front 4X/8X 3.5" HDD tray
Rear 2X 2.5" SSD/HDD tray
Multiple displays (HDMI + DVI-I)
2 x 2.5GbE Ethernet support
1 x GbE Ethernet support with OOB and IPMI 2.0 functions support
Redundant power support (optional)
Ordering Information
NViS 6504
22U rackmount NVR platform with 9th Gen Intel® Core™ processor i3/i5/i7/Xeon® series and Pentium® serie
NViS 6504R
22U rackmount NVR platform with 9th Gen Intel® Core™ processor i3/i5/i7/Xeon® series and Pentium® serie
NViS 6508
22U rackmount NVR platform with 9th Gen Intel® Core™ processor i3/i5/i7/Xeon® series and Pentium® serie
NViS 6508R
22U rackmount NVR platform with 9th Gen Intel® Core™ processor i3/i5/i7/Xeon® series and Pentium® serie