NViS 1482, NEXCOM's newest desktop NVR, promises big things in a small package. Integrating Intel's latest, top-of-the-line 8th Gen (Elkhart Lake) CPU and 11th Gen UHD GPU, the entry-level NVR appliance is the perfect companion to IP cameras for recording high-definition digital surveillance. Using Intel's latest technology means it supports a whopping 32GB DDR4 3200 MHz memory, so that jobs are much faster! Easily plug in up to eight IP cameras via 10/100 IEEE802.3af/at PoE ports, quickly upload data to the edge or cloud through the onboard Intel® 2.5GbE port, and effortlessly view information via HDMI or DVI-I displays.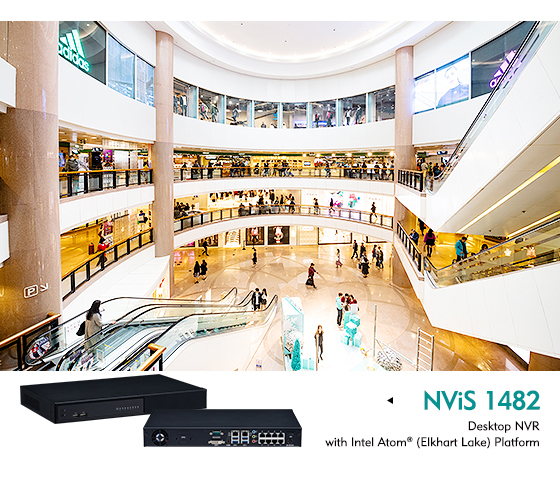 The latest and greatest
Outstanding processing and graphics performance, on top of high-speed Ethernet connections, are brought to you by Intel's newest solutions. The backbone of the compactly-sized desktop NVR is the solid, quad-core 8th Gen Elkhart Lake CPU. With its remarkable multithread performance, it even supports expanded 32GB DDR 3200 MHz memory, meaning that any data workload will be a breeze. The CPU also pairs beautifully with the newest 11th Gen Intel® UHD integrated graphics controller for more stunning and detailed displays. But we would be amiss if we neglected to point out the Intel® 2.5GbE port (and additional 1GE port) for speedy data transmissions!
Captivating camera captures
Digital surveillance NVR devices would be useless without its cameras, which is why the NViS 1482 supports eight 10/100 802.3af PoE ports (or four 802.3at). It can easily capture clear, high-definition images, as it's compatible with a wide range of megapixel IP cameras, and capable of recording 4K resolutions and 2M frame rates with 9ch camera per channel running at 30FPS, performance wise it is benchmarked by Milestone XProtect software. We also provide LED lights to easily monitor PoE activities for users to easily recognize device status on the front. Moreover, one 3.5" HDD SATA drive with support up to 18TB capacity can store your mass data. The NViS 1482, combining effortlessly with third-party VMS software, is therefore the perfect choice for retail environments, small businesses, and SOHO.
Easy-breezy, safe and shielded
The NVR appliance is specifically designed for easy implementation and incorporates critical safety and security mechanisms. A wide variety of I/Os include six USB ports and support for dual displays: HDMI 2.0 (up to 4k resolution) and DVI. Though it's a standard 1U desktop appliance, it also emphasizes versatility with optional mounting: a choice between rackmount or wall mount brackets. The embedded TPM 2.0 ensures data security, while full UL 62368 compliance guarantees that the NViS 1482 meets hazard-based electrical safety standards.
Main Features
Supports 8th Gen Intel Atom® processor X series and Celeron® J series
1 x SATA supports 2.5" HDD/SSD (M.2 as either one option)
1 x SATA supports 3.5" HDD
Multiple display (HDMI+DVI-I)
1 x 1GbE Intel® Ethernet + 1 x 2.5GbE Ethernet
Supports 8-port PoE switch (PSE up to 120W)
Ordering Information
NViS 1482 (P/N: 10C00148200X0)
NViS 1482 desktop SoC NVR with Intel® Elkhart Lake platform built-in 8-port PoE