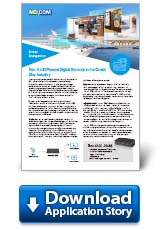 Unique guest experiences are what make cruise ships so spectacular. With thousands of guests spread across hundreds of rooms, entertainment areas, and restaurants, passengers can easily get overwhelmed and miss out on the wealth of available activities and services. Bringing digital services to everyone onboard through an integrated software platform is the best way for cruise liners to provide an unbeatable guest experience and maximize the use of the available onboard services. A rock-solid computer is needed to realize the benefits of such a software platform.
Our client, a technology company providing high-quality and professional IT services to the cruise industry, chose the Neu-X100 industrial embedded computer as a set-top box in the guest cabins and locations elsewhere on the ship for displays ranging from 24" to 98". Instead of choosing a standard consumer-grade set-top box, they selected the industrial-grade Neu-X100 slim computer for its reliability, compact size, and performance.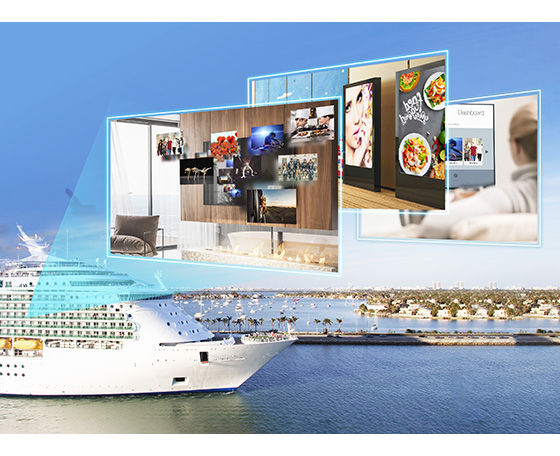 Reliable Most set-top boxes are consumer-grade products that sometimes struggle under the rigors of commercial use. Despite initial cost savings, they represent a higher overall TCO due to increased maintenance and higher downtime, leading to a sub-standard experience for passengers and extra hassle for the cruise company. To achieve this level of reliability, the Neu-X100 is an industrial-grade system with a fanless computer design that eliminates failure-prone fans, ensuring stable operation from -5°C to 50°C. The overall reliability and higher uptime mean the cruise can maximize passenger satisfaction, reflecting well on our client.
Compact Size is a major concern because the set-top box needs to be tucked away out of sight to maintain the appearance in the passenger's cabin yet still be accessible to staff or maintenance crews. The Neu-X100 packs all the functionality of a traditional set-top box and more into an enclosure that measures only 155 x 106 x 37 mm while allowing the cruise digital services provider to install their custom software and use remote management.
High-performance The Neu-X100 provides a set of core features perfectly tailored to the set-top box application. At the core is an Intel® Celeron® J3455 processor (2.30GHz, 10W), with Intel® HD Graphics 500, and up to 8 GB non-ECC DDR3L 1866 MHz memory. Two 4K HDMI 2.0 ports provide high-resolution multi-display video output suitable for the ship's 24" to 98" screens. There are also two USB 3.0 ports for connecting to external devices or maintenance. Finally, there are two Gigabit LAN ports for fast data connection to the central services platform, ensuring smooth operation for guests.
The Neu-X100 industrial-grade embedded system provides cruise ships with a highly reliable computer system with a small footprint and high performance to boot. Our client can now offer their digital services on high-quality computer hardware that provides greater overall value to their cruise liner customers by ensuring their passengers get a seamless and unique customer experience.
Application Diagram

Key Features for Application Needs
Intel® Apollo Lake N3350/N4200/J3455 processor
3.5" MB size as slim chassis design
Support HDMI2.0 output
Fanless design
mini-PCIe slot support Wi-Fi and LTE module