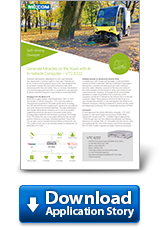 Pavement deterioration, degradation or even road obstacles has always been a common sight for road users. Potholes are known to be one of the greatest issue on the road, bringing forth an increase in stress, fuel costs and mechanical wear while decreasing traffic flow and safety. Thus, to minimize maintenance cost and prolonging pavement life, it is essential for road operators to deliver consistent long-term road condition monitoring (RCM).
Bringing Forth the World of AI
NEXCOM's rugged, fanless, wide temperature (-40°C to 70°C) and durable in-vehicle computers – VTC 6222 has useful AI characteristics essential for the public works sector including, four 802.3at/3af PoE ports supporting IP cameras for surveillance and smart sensors for obstacle detection. Through collaboration with Google, NEXCOM has created an all-in-one AI ecosystem supporting numerous use cases in the public works sector, including object detection and condition monitoring. The Google Coral TPU allows the user to accurately, efficiently, and securely perform inference at the edge. Utilizing proprietary TensorFlow Lite, an open-source machine learning inference framework, this TPU is able to train new or pre-existing models for deployment on NEXCOM's VTC 6222.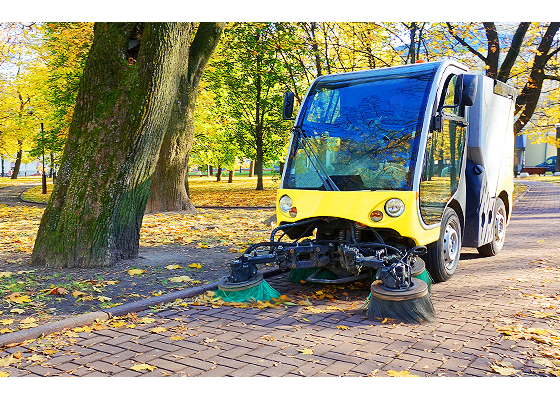 Heading towards an Advanced & Smarter Road
In collaboration with Google and SpringML, a fully automated solution for RCM is proposed. With the installment of SpringML's SpringVision, recording and alerting of poor road conditions becomes reality. Whereas, cameras on the front and side(s) of the street sweepers are functioned to verify road infrastructure/code enforcement violations. All footage will be automatically uploaded to Google Cloud Platform for processing via the company's private Wi-Fi network as the vehicles return to the end customer's depot. Road operators will then be able to go on a user-friendly web interface to view and dispatch the results to 311 whenever necessary. Utilizing AI-powered in-vehicle solution while simultaneously minimizing TCO is undoubtedly the future of RCM.
Conclusion
E-mark approved, the vehicle telematics computer - VTC 6222 is based on Intel Atom® quad core processor E3950. When utilized with Google Coral TPU, it enables Edge AI applications - RCM through near real-time inferencing whenever low latency detections are needed. With 2.5" removable SSD/SD memory card, and meeting the MIL-STD-810G vibration and shock standards; the VTC 6222 is able to operate normally in harsh environments.
Application Diagram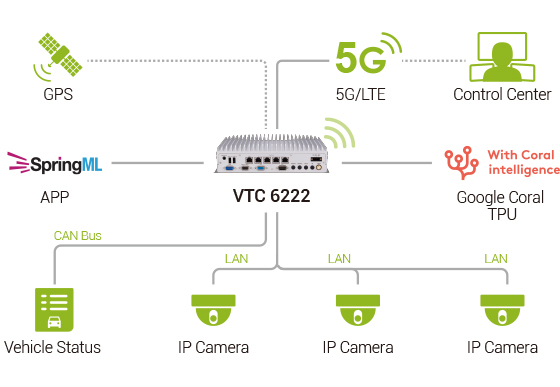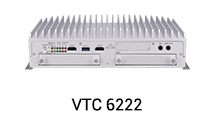 Key Features For Application Needs
Intel Atom® processor quad core E3950, up to 2.0GHz
4 x GbE PoE (IEEE 802.3af/at, max. 60W)
Built-in u-blox M8N/M9N GNSS
Built-in CAN Bus 2.0B
Three video outputs, one VGA and two HDMI
3 x mini-PCIe socket expansion
Dual external storage (compatible with 15mm disk)
E mark conformity