NEXCOM's EBC 357X series of 3.5" boards improves processing power and enhances display performance in a reliable and power efficient compact design. Based on multi-core SoC Intel® Atom™ processor E3900 product family, advanced computing, graphics power, and wide temperature range, the EBC 357X series is aimed at HMI for industrial automation, building management systems and outdoor retail.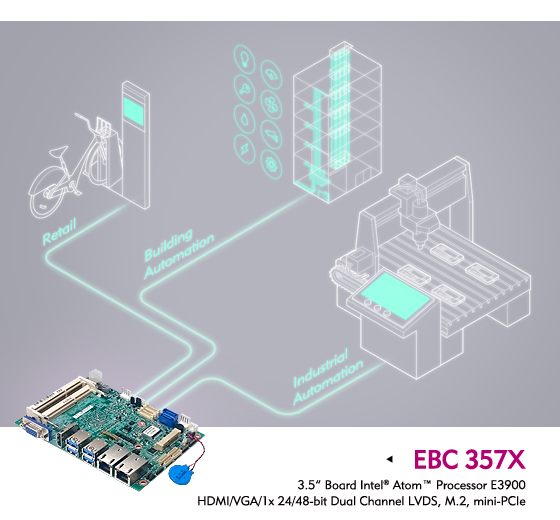 Industrial automation demands faster image processing capabilities for control and monitoring of manufacturing equipment. The EBC 357X series works seamlessly with manufacturing equipment and general motion control systems displaying 2D graphics, as well as running smooth 3D animations in CNC machine processes. The same way, HMI panels allow operators to visualize actions while data is protected and backed up thanks to the additional storage connected through M.2 connector.
Reliable operation under certain thermal conditions is essential to facilitate building automation. Superior resource management is attained knowing the EBC 357X series will remain fully functional even when placed in closed rooms without ventilation, given its working consistency in a wide temperature range of -40 to 85 degrees Celsius. The 3.5" board can control different areas of utilities effortlessly in a building, such as elevators, sewage, maintenance services and even video surveillance.
Ultra-HD 4K graphics and triplex display support permit the EBC 357X to become a complete retail solution for self-service kiosks. The customer can navigate through options to select the desired product or service using a touchscreen or keypad, execute payments, and get a printed receipt. Promotions and advertisements are constantly presented thanks to the multiple displays supporting VGA, HDMI and LVDS. Shopping centers, gas stations, photo printing, check-in counters and even public information are some areas where the EBC 375X series can create a better user experience.
Main Features
Onboard Intel® Atom™ processor E3900 product family
Triplex display: HDMI/VGA/LVDS
2x GbE, 2x SATA 2.0, 4x USB 3.0, 1x mini-PCIe/1x NGFF
4-in/4-out GPIO, Mic-in, Speak-out
Board level operating temperature of -40˚C to 85˚C
Optional heat spreader for ease of implementation
Ordering Information
EBC 357X-E3950 (P/N: 10E00035700X0) RoHS Compliant
Low power embedded board with Intel® Atom™ x7-E3950 processor and extended -40˚C to +85˚C, with HDMI/VGA/LVDS, 4x USB 3.0, 4x COMs, 1x mini-PCIe, 1x NGFF(M.2), 2x Gigabit LAN, 2x SATA
EBC 357X-E3930 (P/N: 10E00035701X0) RoHS Compliant
Low power embedded board with Intel® Atom™ x5-E3930 processor and extended -40˚C to +85˚C, with HDMI/VGA/LVDS, 4x USB 3.0, 4x COMs, 1x mini-PCIe, 1x NGFF(M.2), 2x Gigabit LAN, 2x SATA