NEXCOM's mobile NVR NANO 1190 constitutes an entry-level monitoring solution for vehicles and railway systems. It comprises an embedded video management system (VMS), 4-port PoE switch functions for easy configuration, and the ability to live view, record, and playback stored videos, becoming a competitive alternative for a 24/7 recording solution with optional GPS stamping function.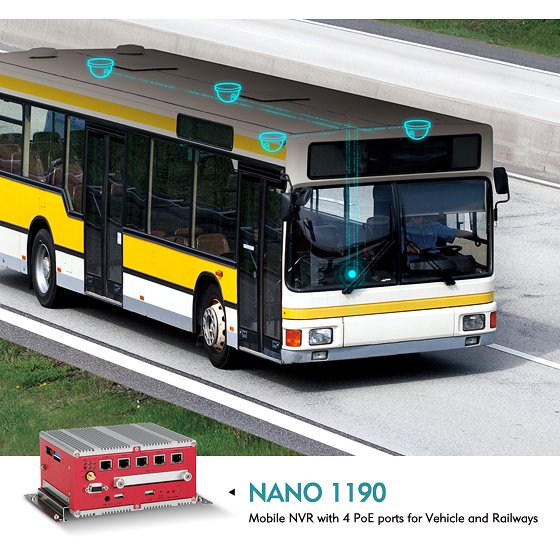 The NANO 1190 enables direct installation and scalability. It's a turnkey solution ready to power on and start using immediately. The built-in VMS allows the mobile NVR to provide pre-validated camera compatibilities to support ONVIF cameras, prioritizing content recording and storage management. Connection to four PoE ports simplifies installation reducing wiring, achieving a complete coverage of the whole interior of the vehicle. More cameras can be connected by adding a switch to fulfill specific applications requirements. Hence, replacement of IP cameras becomes a plain straightforward procedure thanks to the fixed IP address assignation.
The simplicity and ready-to-use feature of the NANO 1190 extends to the realms of remote monitoring when using a web-based user interface to look inside the device. Live view of up to 9 IP cameras connections are provided to the driver. Locations can be recorded in the video with optional GPS support. The 1TB removable storage can hold a month-long full-HD video, and if more space is required, the mobile NVR also supports network-attached storage (NAS) through Samba, NFS, and FTP protocols.
The design of the NANO 1190 resists from -40°C to 70°C, making it suitable for tough and unstable weather conditions. Recorded data is important and well protected thanks to the power ignition delay function that guards the system from harmful voltage spikes. In order to make it applicable in railway systems, the mobile NVR NANO 1190 has E13 and EN50155 certifications. For a dedicated monitoring solution in different scenarios, it delivers two different models, where the four PoE connectors are RJ45 for the NANO 1190-C4S, or four M12 for the NANO 1190-RAC4SM.
Main Features
Standalone NVR (embedded VMS built-in)
4x PoE ports 4ch IP Camera 1080p@120fps
Support ONVIF compliant camera
Support Samba/NFS/FTP protocols to connect NAS
Capability of assigning fixed IP address
802.3at/820.3af (Max. 60W)
2.5" removable SSD
Operating temp.: -40°C ~ 70°C
9V ~ 36V DC in
CE/FCC/E13/EN50155 Tx certificated
Ordering Information
NANO 1190-C4S (P/N: 10N20119000X0)
Standalone NVR w/ 4ch PoE (RJ45), 1080p/ 120fps capacity, 1x Uplink GbE LAN (RJ45), 1x VGA out, 1x removable SSD, E13
NANO 1190-RAC4SM (P/N: 10N20119001X0)
Standalone NVR w/ 4ch PoE (M12), 1080p/ 120fps capacity, 1x Uplink GbE LAN (M12), 1x VGA out, 1x removable SSD, EN 50155 Tx