The continuous exponential growth in the global population has created challenges for the traditional transportation system as it struggles to improve traffic congestion and reduce pollution. In the hope of bringing forth a more efficient and sustainable transportation system, NEXCOM introduces the VTC 7270, its latest fanless AI powered in-vehicle telematics computer. This high-performance general-purpose 5G communication hub is one of the core components of smart vehicles, needed to help create a smart city.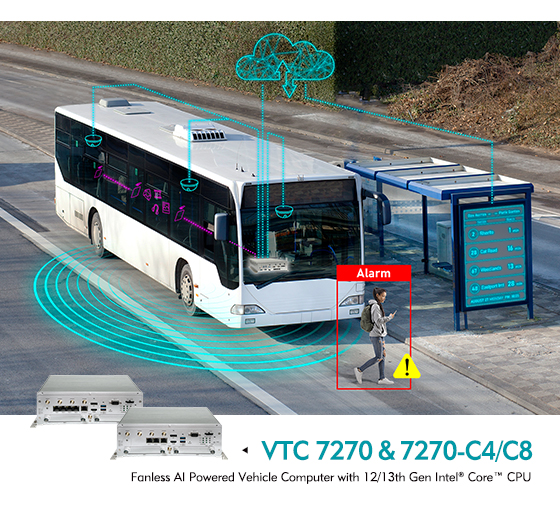 Commitment to Safety
Equipped with the latest 12/13th Generation Intel® Core™ CPU, the VTC 7270 offers 30% more computing power than its predecessor. Despite its compact and lightweight design, this in-vehicle telematics computer can support numerous surrounding sensors, making it ideal for smart public transit.
Seamless Integration
This versatile 5G communication hub offers four extension slots for up to four WWAN/WLAN combinations to provide passengers with hotspots, CAD/AVL, backhaul network service, and server communication assistance. It also has two 2.5" SSDs and one M.2 2280 Key M for NVMe SSD to ensure fast response times and maximum security. For further safety and efficiency management, all recorded footage is uploaded via Wi-Fi, 5G, or in real-time upon returning to the workstations. Whereas, software can be updated via Wi-Fi, providing a clutter-free wireless environment.
Multiple Responsibilities
The VTC 7270-C4/C8 is a versatile in-vehicle telematics computer that can perform multiple tasks seamlessly. It comes equipped with various I/Os, including up to six USB 3.2 ports for peripherals and eight independent 2.5 GbE PoE ports for cameras, LiDar, mmWave radars, and more. Buses that use this telematics computer can leverage CAD/AVL via GNSS, 5G, and Wi-Fi to provide smart public transit and fleet management. This offers passengers an accurate time schedule, while drivers can use it to find the most efficient route. Moreover, the VTC 7270 provides built in computing power and the Intel® Deep Learning Boost Instruction set, enabling it to accelerate deep learning inference workloads and improve application performance through video surveillance, LiDar, and mmWave radars. It can detect front collisions, side blind spots, people counting, recognize license plates, monitor physiological sensors, recognize traffic lights, and make abnormality predictions.
Compliant with MIL-STD-801H, the compact and fanless VTC 7270 has a wide operating temperature range, secured by TPM2.0, and supports CAN Bus. Experience the benefits of powerful computing and efficient management with this upgraded telematics computer, ultimately, helping vehicles drive towards a smart city.
Main Features
Powered by 12/13th Gen Intel® Core™ processor with DDR5
VTC 7270: 2 x 2.5GbE, 1 x GbE, 6 x USB 3.2, 2 x CAN FD & 4 x Serials, w/ 4 extra 2.5GbE PoE (optional)
VTC 7270-C4: 4 x 2.5GbE PoE+, 1 x GbE, 6 x USB 3.2, 2 x CAN FD & 4 x Serials, w/ 4 extra 2.5GbE PoE (optional)
VTC 7270-C8: 8 x 2.5GbE PoE+, 1 x GbE, 6 x USB 3.2, 2 x CAN FD & 4 x Serials, w/ 4 extra 2.5GbE PoE (optional)
2 x 2.5" SSD, 1 x NVMe ultra-speed SSD
Up to 4 WWAN/WLAN combinations for mobile router applications
9~36V DC-IN with ignition control & OCP/OVP
Wide operating temperature range of -40°C~65°C (fanless@35W CPU)
Military standard for anti-vibration/shock
CE/FCC, UKCA, E-mark Certified
Ordering Information
VTC 7270 (P/N: 10V00727000X0)
12/13th Gen Intel® Core™ processor, 2 x 2.5GbE, 1 x GbE, 6 x USB 3.2, 4 x Serials, 2 x 2.5" SSD, 2 x CAN FD, 9~36VDC/IGN
VTC 7270-C4 (P/N: 10V00727001X0)
12/13th Gen Intel® Core™, 4 x 2.5GbE PoE+, 1 x GbE, 6 x USB 3.2, 4 x Serials, 2 x 2.5" SSD, 2 x CAN FD, 9~36VDC/IGN
VTC 7270-C8 (P/N: 10V00727002X0)
12/13th Gen Intel® Core™, 8 x 2.5GbE PoE+, 1 x GbE, 6 x USB 3.2, 4 x Serials, 2 x 2.5" SSD, 2 x CAN FD, 9~36VDC/IGN