In the post-pandemic era, localized and distributed manufacturing are crucial to reduce regional military conflict and supply chain issues. AI-auxiliary analysis and smart manufacturing analytics are hot topics for plant managers and business owners. By integrating advanced AI and OT/IT technologies, including ERP and MoM systems into factories, various benefits are achieved, including increased OEE, optimized defects and costs, reduced downtime and failure rate, and energy savings. NEXCOM introduces the TT 300-A2Q/A3Q, a compact and high-performance system for factory automation and AI model training. Both edge DAQ and MoM systems feature eight COM ports for PLCs/equipment connectivity and seamless OT/IT integration. After data is received, it must be analyzed by AI before being projected onto the Enterprise War Room. This War Room comprises nine modules for facility monitoring, predictive maintenance, production line monitoring, energy management, ERP/MES, productivity decision-making systems, mesh Wi-Fi, cybersecurity, and 3D factory on a 4x4 TV matrix. The A2Q and A3Q variants provide improved features including high performance 12/13th i7 CPUs, increased PCIe x16 slots, and versatile connectivity for integrated OT/IT as well as AI integrated applications designed for daily KPI and dashboard managing.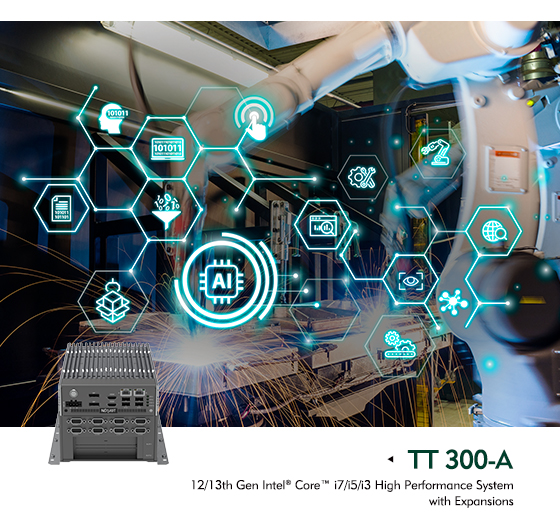 Advanced Processing and AI Capabilities
The TT 300-A Series features a powerful 12/13th Gen Intel® Core™ processor, ideal for multithread workloads and scheduling algorithms. With Intel® OpenVINO and Intel® Deep Learning Boost, it accelerates AI/deep learning inference workloads. The TT 300-A3Q offers a PCIe x16 slot for GPU support, providing an edge in data acquisition, image classification, defect inspection, parameter optimization, productivity enhancement, and more.
Versatile Connectivity
The TT 300-A2Q variant is ideal for factory automation, featuring eight COM ports for PLC and peripheral connectivity. With Intel® CPU-based edge computing platforms, NEXCOM's solution enables AI training server implementation and AI Inference Engine deployment in smart factories, leading to a 15-25% increase in KPI in daily operations, including OEE, availability, performance, quality, energy efficiency, profit enhancement, etc. Both TT 300-A2Q/A3Q offer versatile connectivity with two HDMI and two DP ports for quad 4K HDR displays. It offers the elastic combinations of display matrix for intelligent operation center application.
Swift Communication
This AI training server provides M.2 2280 Key M and M.2 3052 Key B slots for fast transmissions and communication. It supports NVMe SSD and 5G modules, ensuring performance.
The TT 300-A Series enhances machine and factory automation with AI capabilities, spanning applications from machine to the shop floor to MoM and enterprise. The integrated war room enables real-time capacity adjustment and production monitoring. Combining ERP and MES data facilitates profitable decision-making and improves smart manufacturing operations. This high-performance AI training server is an ideal solution for maintaining competitiveness in the global marketplace.
Main Features
Support 12/13th Gen Intel® Core™ i7/i5/i3 socket type processor
Intel® Q670E PCH
1 x PCIe x16 (TT 300-A3Q only)
2 x PCIe x4
1 x mini-PCIe (PCIe x1, USB 2.0, SATA)
2 x HDMI & 2 x DP
4 x USB 3.0, 2 x RS232/422/485
6 x RS232 for TT 300-A2Q
4 x RS232 for TT 300-A3Q
1 x M.2 2280 Key M (PCIe x4, SATA)
1 x M.2 2242/3042/3052 Key B (PCIe x1, USB 3.0, SATA)
1 x SIM card socket
Support 24VDC input; support ATX power mode
Ordering Information
TT 300-A2Q barebone (P/N: 10JT0030017X0)
TT 300-A3Q barebone (P/N: 10JT0030018X0)
24V, 120W AC to DC power adapter w/o power cord (P/N: 7400120029X00)
24V, 180W AC to DC power adapter w/o power cord (P/N: 7400180012X00)