NEXCOM, leading global provider of network appliance devices, launches the new NSA 5181 1U rackmount system for small and medium-sized businesses with complex network traffic management needs. Featuring 8th/9th Generation Intel® Core™/Xeon® E processors (former code names Coffee Lake S & Coffee Lake S/Refresh) and Intel® C246 chipset, the modular, flexible network solution is ideal for SD-WAN, web monitoring, load balancing, and even network virtualization uses.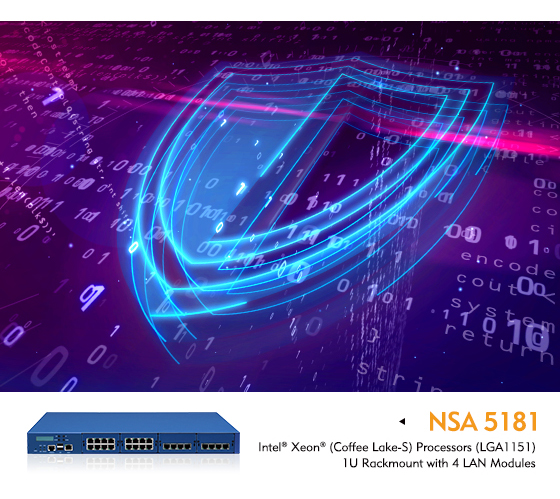 With its high-end processors and cost-effective design, the NSA 5181 supports easy deployment with the utmost performance optimization in SD-WAN infrastructure. Its built-in IPMI 2.0 enables remote management of your network. By simplifying deployment, configuration, and management of network security controls, the network appliance can fend off unauthorized access, patch potential security loopholes, and create protected networks for business environments.
The network appliance is suitable for more intricate enterprise needs. Easily expandable, the NSA 5181 supports high bandwidth and high-capacity memory, as well as three different storage form factors, giving customers flexibility. For connectivity needs, the four LAN module expansion slots offer scalability and a variety of configurations best utilized with NEXCOM LAN modules, which make parallel networking effortless.
Main Features
1U rackmount workstation system
Intel® Coffee Lake-S Xeon® processors (LGA1151)
Supports DDR4 2666 DIMM x 4
Supports IPMI 2.0 remote management
Four LAN module slots
Supports LCM module (optional)
Supports internal 2.5", mSATA, and M.2 storage
Ordering Information
NSA 5181 (P/N: 10S00518100X0)
Intel® Coffee Lake-S Xeon® E processor with 4 x DDR4 DIMM, 4 x LAN modules, IPMI 2.0, and redundant PSU