NEXCOM's digital signage players were the remarkable success of the 2013 Integrated Systems Exhibition (ISE). Exciting new products such as the NDiS B532, NDiS B862 and NDiS M532 enthralled visitors with their sleek fanless design and brilliant performance.
NDiS M532 OPS digital signage player is powered by the 3rd generation Intel® Core™ processor family paired with mobile Intel® QM77 express chipset. The module player has an integrated Intel® HD graphics 4000 and supports Microsoft DirectX 11. Taking advantage of the latest Intel technology, M532 OPS digital signage player can accelerate video analytics, 3D rendering, image processing and video decoding to provide highly personalized information based on the result of audience measurement to deliver accurate marketing message to target audience.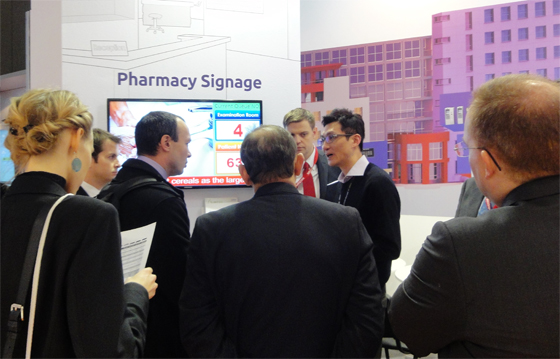 Additionally, NDiS B532 powered by 3rd generation Intel® Core™ processor, which supports dual full HD video playback plus impressive system performance and with 1080P video playback on three independent displays, fully satisfies the customer's expectation and therefore can be used in applications, such as advertising, hospitality, brand promotion and digital menu boards.
Last but not least, NDiS B862 digital signage player captured visitor's imagination with its ability to support six independent HDMI outputs, dual USB3.0 and dual GbE Ethernet with optional WLAN. NDiS B862 is therefore an advanced media player which is perfect for high-impact deployments across multiple screens.
For more information about NEXCOM digital signage player, please visit NEXCOM website.