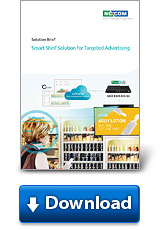 Increasingly retail operators are considering implementing smart shelves to gain a better understanding of customers' behaviors. With smart shelves, retailers can tap into customer demographics to adjust and optimize selling strategies, direct customers' attention to not only the latest but also the most relevant promotions to customers, and more importantly create potential sales opportunities to boost revenues and enhance customer satisfaction.
Solution Overview
NEXCOM Smart Shelf Solution includes NEXCOM's digital signage player hardware NDiS B325-SI-QV, Quividi's VidiReports Pro for automated audience and attention analytics, and VidiCenter for online data management. To form a holistic solution, NEXCOM's digital signage software, PowerDigiS*, is also available as an option for efficient content management, enabling retailors to collect customer demographics, compile statistics reports, deliver customer-related content, and manage signage remotely.
Solution Package
VidiReports Pro for Automated Audience & Attention Analytics
VidiReports Pro estimates the aggregate footfall while counting exactly how many people have actually looked at the screen. It provides the dwell time, attention time and demographics of the audience, determines the gender with a 90% precision, and classifies the viewer's age in four categories (child, young adult, adult, or senior).
VidiCenter for Online Data Management
Built on a scalable architecture, VidiCenter securely gathers audience and attention data. It combines a Charts module—to plot a rich set of KPIs across demographic groups, time, locations, and contents in easy-to-use dashboards—as well as a Management module—to organize a fleet of sensors across locations and sites, spot and resolve alerts, and manage users and rights.
PowerDigiS for Content Management (Optional)
With viewer demographics data, PowerDigiS enables viewer interaction by displaying message tailored to the interest of a target audience group. To amplify message delivery, retailors can create visually stunning effects with multi-zone layouts, rich content formats, and video wall configurations which are all supported by PowerDigiS. Remote management is also supported to facilitate content update and scheduling.
Hardware Specifications
Powered by 6th generation Intel® Core™ i3-6100U processor, the high performance hardware NDiS B325-SI3-QV can run viewer demographic analysis and display amazing visuals simultaneously. NDiS B325-SI3-QV supports 4K resolution for ultra HD video contents, mulit-display configurations with dual HDMI ports, and network connection for remote hardware access.
NDiS B325-SI3 Pre-installed with Quividi VidiReports Pro/PowerDigiS*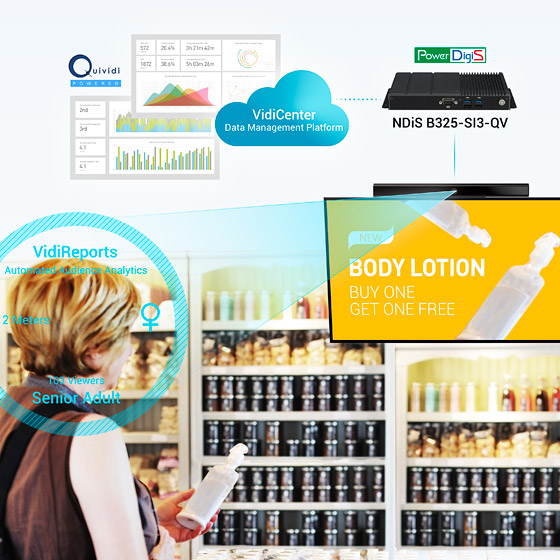 Application Diagram
The smart shelf solution simplifies installation and maintenance by consolidating analysis workloads of a microserver and multimedia processing of a signage player into a unified platform. With pre-integrated software and hardware, the solution can be set up and running immediately to help retailors create interactive shopping experience and improve customer satisfaction.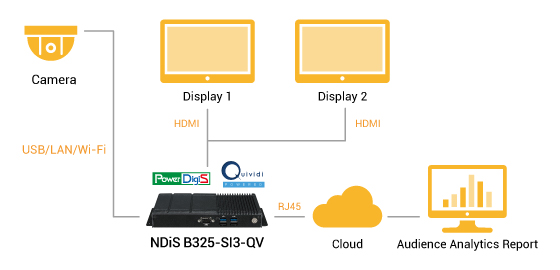 Ordering Information
NDiS B325-SI3-QV (PN: 10W00B32508X0)
Audience analytics solution integrated with Windows 10 IoT Enterprise 2015 LTSB, Quividi VidiReports Pro, and VidiCenter cloud data management platform access for two years
* Cameras are not included in the solution package. Clients can select FHD cameras based application requirements.
* PowerDigiS: The digital signage software is optional.