NEXCOM's new open frame Panel PCs OPPC 1540HT/1940HT revamps semi-outdoor self-service kiosks with high brightness for better visibility and enriched customer satisfaction. Available in 15" and 19" sizes, the OPPCs based on the Intel® Celeron® processor J1900 are ideal for any kind of semi-outdoor self-service kiosks carrying high brightness and flexibility not only to suffice specific demands, but also to engage customers into a refreshed experience.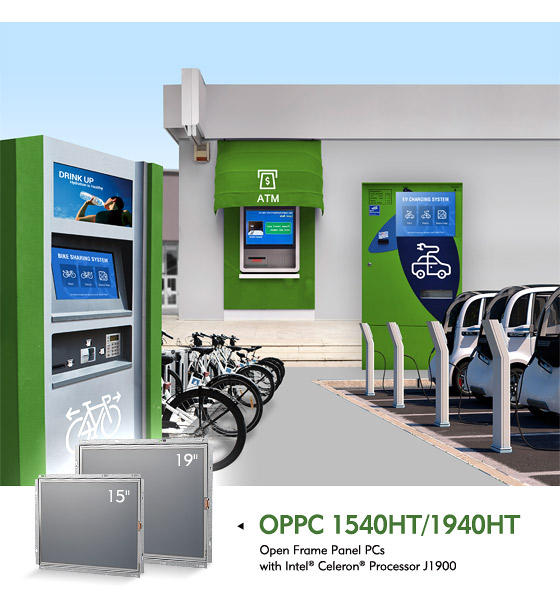 The higher brightness of OPPCs 1540HT/1940HT ensures better visibility in semi-outdoor self-service kiosks all day long. Installed in semi-outdoor environments, most displays are hard to read causing frustration, whereas NEXCOM's Panel PCs with high brightness elevate customer experience when they attempt to get a bike or while paying to charge electric vehicles in the daytime.
The Panel PCs unleash possibilities to seamlessly satisfy individual demands. Starting from member identification, processing requests, updating data in real time, to completing transactions by taking payment and printing invoice, the OPPCs 1540HT/1940HT support card readers, scanners, printers, and cameras to convey every client needs. For instance, if video recording is required for ATMs, or if video calls for assistance intend to provide a friendlier service, then these Panel PCs are the way to go. Self-service kiosks will not only be continuously connected keeping management systems aligned and customers satisfied, but also perform with high reliability during transient voltage surge given the isolation protection on COM ports.
The multimedia capabilities of the OPPCs 1540HT/1940HT take self-service kiosks to the next level. The open frame design allows bezel design customization and effortless fitting into any enclosure. The Panel PCs offer a second display support that raises the interactive experience bringing a versatile and comprehensive solution. A second display in a self-service kiosk can simultaneously play advertisements or offer promotions while the main display serves users providing information, processing registrations, and other on-demand functionalities.
Main Features
4:3 15" XGA and 4:3 19" SXGA fanless panel PCs
Quad-core Intel® Celeron® Processor J1900
1000-nit high brightness
PS2/line-out/2x GbE/3x USB/VGA/2x mini-PCIe
2x RS232/422/485 with isolation protection
Mounting support: panel/wall/stand/VESA 100mm x 100mm
Remote power switch and wide range power input of 12~30V DC
Ordering Information
OPPC 1540HT-J1900 (P/N: 90IQ1540H00X0)
15" XGA LED backlight touch Panel PC with Intel® Celeron™ J1900, 2.0GHz, 1000 nits, touch screen, 4GB DDR3L with 2x RS232/422/485
OPPC 1940HT-J1900 (P/N: 90IQ1940H00X0)
19" SXGA LED backlight touch Panel PC with Intel® Celeron™ J1900, 2.0GHz, 1000 nits, touch screen, 4GB DDR3L with 2x RS232/422/485
Options
12V, 60W AC/DC power adapter w/o power cord (P/N: 7400060017X00)