NEXCOM's industrial Wi-Fi gateway NIO 51 attains a robust wireless connectivity and manageability for automated guided vehicles (AGVs). The NIO 51 delivers Wi-Fi mesh support, ease of remote monitoring, data acquisition, and industrial-grade durability to achieve automation in factories communicating AGVs over a highly reliable network.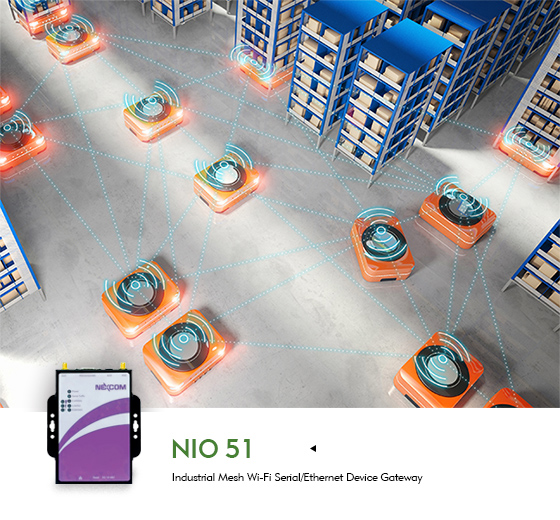 The NIO 51, with dual-band 2.4GHz/5GHz, supports the EZ Mesh technology enabling a stable and reliable wireless ad hoc network for AGVs. Unconstrained by wiring and setup complexity, the EZ Mesh configuration with self-forming ability dynamically finds the most optimal mesh path with the best signal strength. In industrial environments where strong connections are challenging, AGVs equipped with the industrial Wi-Fi gateway NIO 51 behave as mobile access points to create multi-paths that can self-heal to ensure uninterrupted data communication with low packet loss, expanding network coverage in factories and warehouses.
The industrial Wi-Fi network deployed by several NIO 51 is easily managed with nCare. The remote network management tool can create a complete visual mapping, monitor network status, and notify irregularities in real time. When a group of NIO 51 is ready and functioning, nCare can easily create a top-view topology offering visual representation of each mesh point. Through continuous monitoring of the network links, Wi-Fi signal, and traffic, nCare guarantees network reliability. In case of any possible failure, it alerts administrators using email, SMS, social media, or even over the mobile app.
The NIO 51 also allows nCare to oversee the health condition of connected devices. In addition to managing the network, nCare constantly receives and processes inputs from NIO 51 to display any status change or malfunction of the devices deployed. The NIO 51 provides not only data acquisition from serial into data packets for Ethernet/Wi-Fi interfaces, but also conversion between Modbus RTU to Modbus TCP protocols. In the case of AGVs, nCare can alert administrators of events such as bad battery condition or motor malfunctions.
The industrial-grade design of the NIO 51 withstands harsh operating conditions. Featuring extended temperature range between -40 and 75 degrees Celsius, enhanced level 3 surge and EFT protection, and level 4 ESD, the NIO 51 embodies an industrial Wi-Fi gateway engineered with noise immunity to be installed in AGVs that move close to machine in factory environments.
Main Features
Support EZ Mesh and client router mode
Support nCare remote web-based configuration
Support Modbus TCP, RTU, and Transparent
Support serial, Ethernet and Wi-Fi interfaces
Level 3 surge and EFT protection, and level 4 ESD immunity
Selectable 2.4GHz/5GHz
Wide 12~48V DC input and -40°~75°C operation temperature
Ordering Information
NIO 51 (P/N: 10T00005101X0)
Industrial Mesh Wi-Fi, serial/Ethernet device gateway