NEXCOM security hardware NSA 5160 helps small and medium-sized businesses (SMBs) scrutinize network traffic with ease. Featuring Intel® Xeon® Processor D-1500 Product Family, the NSA 5160 delivers scalable computing performance, high port density, and easy expansions of high-speed networking interface. By simplifying deployment, configuration, and management of network security controls, NEXCOM security hardware can fend off unauthorized access, patch potential security loopholes, and create protected networks for business environments.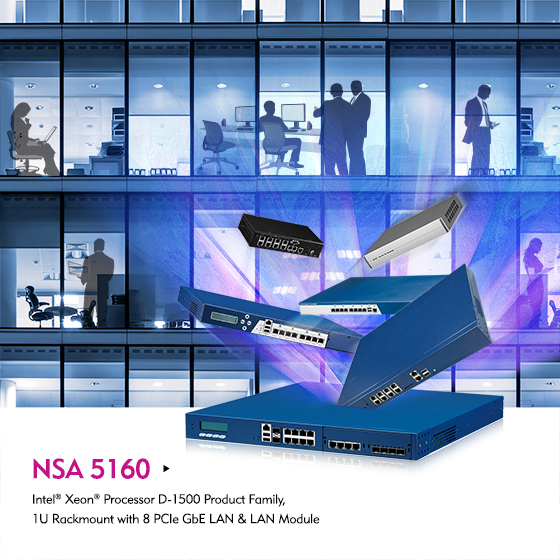 "The security landscape is in constant change with the sheer amount of zero-day vulnerability, malware, and attack tactics explored and exploited in networks. To guard intellectual properties, business intelligence, and client privacy, SMBs need not one-time solutions but security measures that can adapt to complex dynamics of network activities and vigorous workplace. Supporting the full lineup of the Intel® Xeon® Processor D-1500 Product Family, the NSA 5160 is equipped with such flexibility, permitting a capability boost for strengthened protection and increased traffic," said Hadwin Liu, Chief Architect of NEXCOM Network and Communication Solutions Business Group.
"Based on Intel's industry-leading 14 nm silicon technology, the Intel® Xeon® Processor D-1500 Product Family is the first offering of a line of processors that will address a broad range of low-power, high-density infrastructure needs. It also provides advanced server-class enhanced reliability, availability, and serviceability (RAS) features," said Samuel Cravatta, product line director, Internet of Things Group.
NEXCOM Intel® Xeon® Processor D-1500 based NSA 5160 supports up to eight-core computing power and 128GB of DDR4 2133 registered ECC memory, and has eight 1GbE and two 10GbE ports. Designed for network sizes of SMBs and remote branch offices, the security hardware can deny unauthorized access, match data to known attack patterns, and enforce fine-grained control policies for firewall, intrusion detection (IDS) and prevention (IPS), and unified threat management applications.
For multi-gigabit deployment, NSA 5160 also offers port expansion options with two PCI x8 slots. Complimented with NEXCOM NI and NX module series embedded with Intel® Ethernet Controllers I350 and XL710 respectively, the security hardware can be configured with a maximum of sixteen 1GbE or eight 10GbE ports with bypass feature to accommodate a higher volume of network traffic and make possible more network setups and server-grade applications.
Main Features
1U rackmount network platform
Intel® Xeon® Processor D-1500 Family
Support up to 128GB of DDR4 2133 ECC REG memory
On-board 8x 1GbE LAN Copper/Fiber and 2x 10G SFP+ ports
2x PCIe x8 interfaces for LAN module expansion