NEXCOM's economical, 4K digital signage player helps boost consumer attention and engagement in supermarkets, electronics stores, and retail counters. Made for simple deployment and maintenance, the compact NDiS B115 equips Android™ operating system, convenient I/O ports, and built-in solid-state storage for reliable retail operation.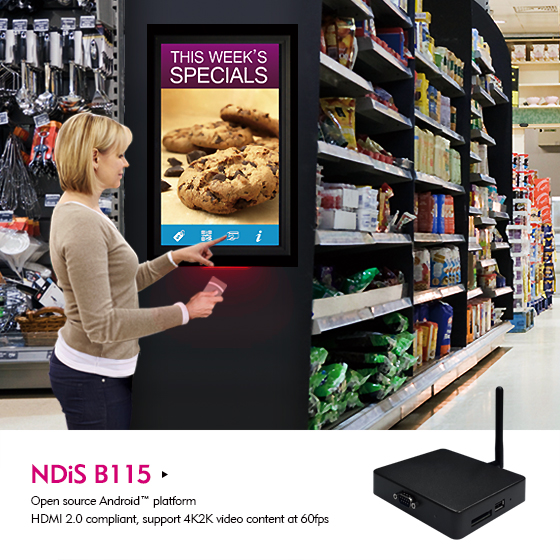 To help retailers gain customer attention in today's fast-paced, highly-competitive business environments, this digital signage player delivers immersive viewer experiences in an economical yet effective way. With dedicated quad-core Rockchip RK3288 processor and onboard memory, the NDiS B115 can smoothly demonstrate product highlights, brand messages, and promotion informatively and entertainingly with continuous 4K videos. Better still, open-source Android operating system support lowers total cost of ownership (TCO).
Retailers can further leverage NDiS B115's versatile I/O ports for enhanced interactivity and simplified management. 4K demos via a HDMI 2.0 output entice customers while touchscreen support via USB ports boosting prolonged engagement. Designed to be easily managed so that video content could flexibly be changed or added based on marketing objectives, the digital signage player equips a USB, a GbE LAN port, built-in Wi-Fi, and an optional 3G/4G expansion.
Designed to fit aesthetically into stores' look and feel, the palm-sized digital signage player can be inconspicuously placed at shelf or mounted to walls. To ensure intervention and maintenance as minimal as possible, the NDiS B115 features metal enclosure, fanless design, and onboard eMMC storage.
Main Features
Open source Android™ platform
Quad-core Rockchip RK3288 processor
HDMI 2.0 compliant, support 4K2K video content at 60fps
Fanless and slim design
Ordering Information
NDiS B115 (P/N: 10W00B11500X0)
Android is a trademark of Google Inc.