NEXCOM has co-developed with Hilscher on the IoT gateway solution to build seamless end-to-end connection for Industry 4.0. Aimed to address the last mile challenge in the Industrial Internet of Things (IIoT), the dual-branded NEXCOM NIO/Hilscher netIOT IoT gateway solution supports five communication standards and is pre-installed with NEXCOM IoT Studio software for simplified network configuration. By connecting PLC control systems to cloud platforms, NEXCOM NIO/Hilscher netIOT IoT gateway solution epitomizes an interoperable network architecture for transferring operational field data to the cloud to deliver the benefits of big data analysis and remote management.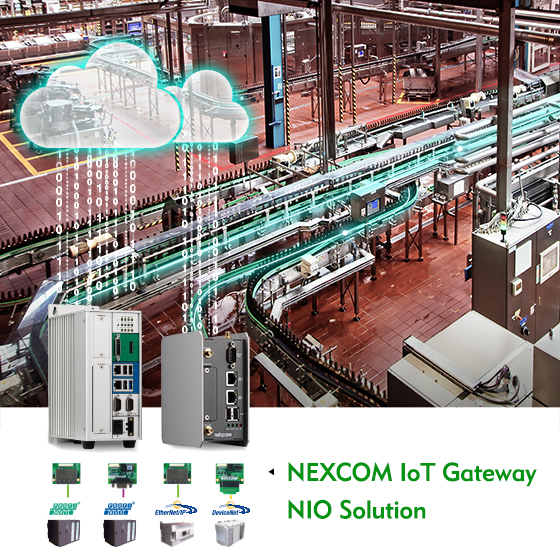 The NEXCOM NIO/Hilscher netIOT IoT gateway solution provides cross-platform interoperable connectivity for connecting factories to the cloud. On the field and control level, Modbus® TCP/IP and Modbus® RTU, PROFINET®, PROFIBUS®, EtherNet/IP™, and OPC UA links are pre-validated on the gateway to ensure reliable communication with different-branded systems; while an IIoT version of NEXCOM IoT Studio software with a built-in fieldbus configuration tool is pre-integrated in the NEXCOM NIO/Hilscher netIOT IoT gateway to enable easy configuration within single interface operation and immediate transfer of field data. For applications where real-time responses are crucial, NEXCOM NIO/Hilscher netIOT IoT gateway solution offers scalable performance options for controller and gateway 2-in-1 applications.
"Cross-platform interoperable connectivity is long overdue in the industrial automation and control industry. To today's fragmented control network architecture NEXCOM NIO/Hilscher netIOT IoT gateway can bring about change by interoperating with different branded control systems typically using different protocols and running independently. More importantly, the co-developed gateway enables manufacturers to establish two-way communication channels among factories and cloud services, realizing Industry 4.0 visions including remote monitoring of factory operations, timely adjustment throughout manufacturing and sales processes and, improved supply chain management," said Joe Lin, General Manager of NEXCOM's IoT Automation Solutions Business Group.
"Industrial communication is one of Hilscher's core competences. Working in collaboration with NEXCOM extends Hilscher's fieldbus strengths and expertise to the gateway product category. The seamless integration of five communication connections and cloud connectivity can help manufacturers regain speed, efficiency, and agility, making a meaningful difference in industries," said Armin Pühringer, Business Development Manager of Hilscher Gesellschaft für Systemautomation mbH.
The live demonstration of NEXCOM NIO/Hilscher netIOT IoT gateway is featured at the SPS IPC Drives 2015 in Nuremberg, Germany, showing how field data can be harnessed from Siemens PLC control systems and be sent to IBM Bluemix™ cloud platform through NEXCOM NIO/Hilscher netIOT IoT gateway solution. Under the collaboration more industrial communication standards will be added to NEXCOM NIO/Hilscher netIOT IoT gateway, benefiting users of world-class branded PLCs with reduced engineering efforts at the upfront configuration stage and accelerating the IIoT and Industry 4.0 proliferation.