The newest member of NEXCOM's Mobile Computing Solutions (MCS) railway computing family is here, the nROK 7251. Backed by an Intel® 9th-Generation Core™ CPU, the railway computer is particularly designed for 5G communication and video surveillance with multiple mini-PCIe and M.2 expansion, SIM card, and M12 PoE slots. To protect against potential interruptions in power supply, we offer two different models, with or without power isolation. What's more, the nROK 7251's rugged design is built for longevity and suboptimal conditions with multiple certifications, wide operating temperature range, and thermal dispatch system.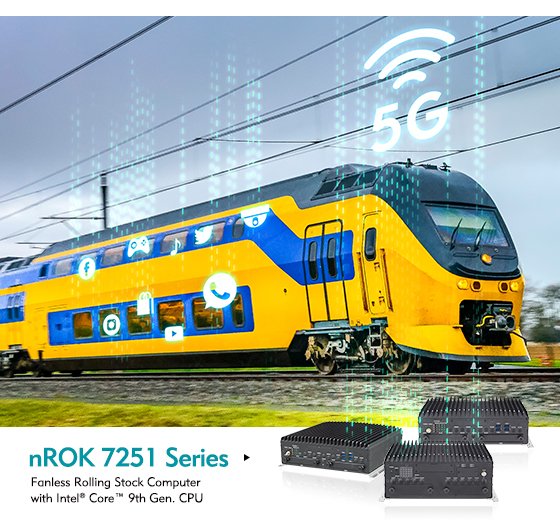 Whisking you to the 5G world
Ready to take advantage of the proliferation of 5G networks across the world? NEXCOM has got you covered! For communication purposes, nROK 7251 comes with an abundant supply of mini-PCIe and M.2 B Key expansion sockets, most suitable for installing three WWAN modules (fourth optional) and pairs of SIM cards for easy access to 5G networks. Imagine this: each additional WWAN module adds incrementally more bandwidth to fulfill your connectivity needs. Moreover, the network redundancy ensures that you can still transfer data during service interruptions by switching from one network to another, especially crucial for control center communication.
Smile! You're on camera!
Monitor anytime, anyplace by using the four independent 802.3af/at PoE ports to power IP surveillance cameras. The four M12 X-coded ports' Intel® I210 Ethernet controllers, on top of the M12 X-coded LAN port's I219 connections, are not only suitable for higher-speed connections, but also mean durability at wider temperature ranges, critical when encountering variable environmental conditions. The LAN port also provides iAMT and WOL support for enhanced remote management. Additionally, a variety of I/O ports, including six USB and three serial, assure that all of your peripheral equipment and devices can easily connect to the railway computer.
Quality hardware-software combo means higher performance
We've selected Intel's 9th Generation i7 processor to ensure top performance. As surveillance cameras record greater data volume, we simplify storage with two SATA SSD drives, with additional BIOS option to utilize the aforementioned mini-PCIe expansion slots as mSATA storage. Safety is crucial, which is why we provide GNSS with optional dead reckoning to continuously update driving conditions based on your train's position. Configurations are a breeze with our proprietary utility software for both Linux and Windows platforms, allowing seamless management of your entire system.
The signature Mobile Computing Solutions design
Feel secure knowing that the nROK 7251 performs impeccably under various conditions. For situations with inconsistent electric supply, especially in vehicles such as locomotives, passengers wagons, light rails, trams, and freight trains, the 7251-WI-7C4IP meets EN50155 certification standards by providing isolated wide input voltage of 24 to 110VDC (including 24, 36, 48, 72, 96, and 110VDC inputs). Dustproof and protected against low-pressure water ingress from cleaning or accidents, this model additionally offers IP65 protection to better prevent deterioration and damage due to moisture and atmospheric contaminants. The standard model 7251-7C4 without power isolation instead provides an additional HDMI port and IP30 protection. However, if you desire a cost-effective, general-purpose Intel® Core™ solution without PoE ports, select the nROK 7251-7A.
All models are constructed with higher-quality aluminum instead of iron and include a thermal dispatch system, so that the railway computer reliably maintains higher clock speeds at an extended operating temperature range of -40 to 70°C. The nROK 7251 is also environmentally friendly and ruggedized for suboptimal conditions, having been certified to both EN50155 and MIL-STD-810G standards.
Main Features
Intel® Core™ 9th Gen. desktop, i7-9700TE, up to 4.3 GHz, 8 Core
4 x Independent 10/100/1000 Mbps PoE 802.3af/at, total 60W
(nROK 7251-WI-7C4IP, nROK 7251-7C4)
2 x External SSD/HDD and 2 x mSATA (occupied mini-PCIe slot) for RAID 0, 1
IP65 waterproof rating (nROK 7251-WI-7C4IP)
3 x WWAN module slot, each 2 x external SIM socket
3 x mini-PCIe slot and 2 x M.2 key B slot
CE/FCC/EN50155 class OT4 conformity
Wide voltage input 24~110 VDC with isolation (nROK 7251-WI-7C4IP)
Ordering Information
nROK 7251-WI-7C4IP (P/N: 10A00725100X0)
Intel® Core™ 9th Gen. i7-9700TE, 2 x 4 GB industrial grade memory, DC input 24V~110V w/ isolation, 1 x VGA, 1 x LAN, 4 x PoE 802.3af/at (total 60W), IP65
nROK 7251-7C4 (P/N: 10A00725101X0)
Intel® Core™ 9th Gen. i7-9700TE, 2 x 4 GB industrial grade memory, DC input 24V w/o isolation, 1 x VGA, 1 x HDMI, 1 x LAN, 4 x PoE 802.3af/at (total 60W)
nROK 7251-7A (P/N: 10A00725103X0)
Intel® Core™ 9th Gen. i7-9700TE, 2 x 4 GB industrial grade memory, DC input 24V w/o isolation, 1 x VGA, 1 x HDMI, 2 x LAN