As production facilities and machinery are linked to the internet, the increased cyber threats might result in loss of critical data, system performance degradation, and even system failure. With productivity and business reputation at risk, factory administers require network security solutions with smarter and more effective technologies that detect security gaps and close them reliably. To help construct a secured, reliable network, NEXCOM's latest firewalls offer stateful inspection, detection, and intelligently detain malwares from increasing cyber threats with intrusion detection systems (IDS) and intrusion prevention systems (IPS) features.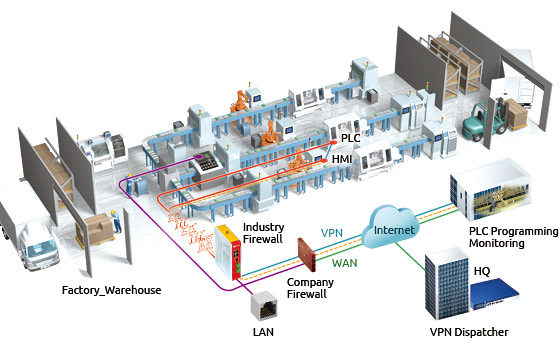 Seeing the insufficient security of traditional firewalls based on port and protocol logic, NEXCOM developed its state-of-the-art firewall solutions featuring IDS and IPS to safeguard the networks from the factory floor to the hospital operating room. In addition to examining IP address, NEXCOM's firewalls can not only look into packets searching for threats but also react to attacks by sending alarms and blocking them.
The IDS security feature conducts stateful inspections that examine IP address, packets, protocol violations, and unusual network traffic and behavior including unauthorized logins and access to sensitive data. Abnormal entry logs will then be automatically generated, thus enhancing factory operators' situational awareness about these identified attacks. The IPS feature, on the other hand, actively responds to these malicious attacks by rejecting packets and blocking their IP connection. In addition, the IPS can be configured to trigger alarm LED and send SMS, email notifications to administrators so that they can take real-time actions. The contamination can be controlled before the damage worsens.
With years of experience in industrial network communication and network security, NEXCOM brings peace of mind and intelligent solutions for at various application needs. Capable of fieldbus protocol support, NEXCOM helps build a secured network in industrial environments. Also, firewalls can be tailor made with encrypted VPN to offer secured remote access to factory networks, or port forwarding function to redirect network traffic to virtual hosts, meeting different layers of security demands from automation, healthcare, and oil and gas processing systems. With rugged and wide temperature design, NEXCOM's firewalls ensure 24/7 threat monitoring and responses.