NEXCOM PEAK 886VL2 PICMG 1.3 full-size single board computer based on the 3rd generation Intel® Core™ processor family paired Intel® Q77 Express chipset gives system performance a quantum leap. PEAK 886VL2, based on 22nm 3rd generation Intel® Core™ processor integrated with Intel® HD Graphics 4000 shows a huge increase in performance per watt, imaging processing capabilities, I/O bandwidth and data security. With high scalability and flexible expansion, PEAK 886VL2 meets different levels of performance demand for applications such as factory automation, AOI, medical imaging and video surveillance.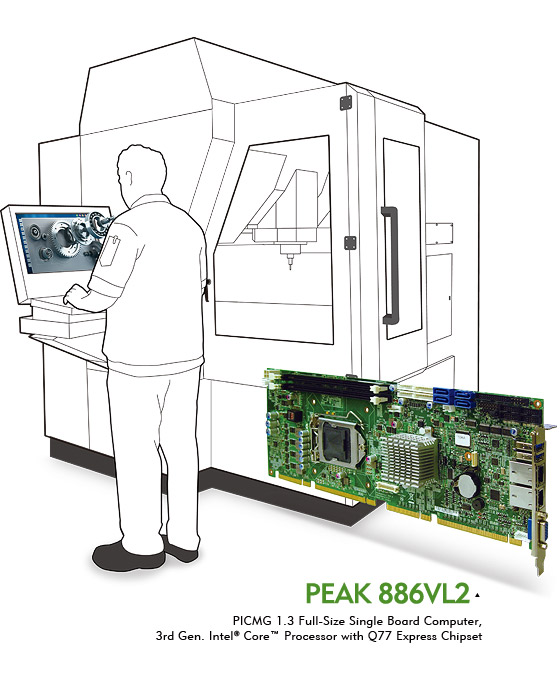 PEAK 886VL2 supports a wide selection of LGA 1156 socket type processors, ranging from quad-core 3rd generation Intel® Core™ i7-3770 processor to dual-core Intel® Pentium® G2120 processor. With Integrated Intel® HD Graphics 4000 and up to 16GB dual channel DDR3 1333/1600 SDRAM, PEAK 886VL2 supports DirectX 11, OpenGL 3.1 and OpenCL 1.1 and increases 3D imaging processing by 2.9 times, compared with the previous generation processors. Based on the Intel® 22nm technologies, PEAK 886VL2 also uplifts the overall performance by 19 percents while keeps TDP within 77W.
PEAK 886VL2 equipped with the latest PCIe 3.0 doubles the interconnect speed to 8Gbps. Working in conjunction with NEXCOM PICMG 1.3 backplane NBP 14536, PEAK 886VL2 supports up to PCIe x16, four PCIe x1 and four PCI. To facilitate the migration from ISA to PCIe, four ISA outputs are also supported by the backplane with built-in PCI/ISA bridge ITE8888.
The PICMG 1.3 full-size SBC PEAK 886VL2 has four 5Gbps USB 3.0 ports, which run ten times faster than the four adjoining USB 2.0. Among its four COM ports, the COM 2 supports not only RS RS232/422/485 interfaces but also 5V/12V power supply to external devices through RI pin. In addition, one VGA, one DVI/HDMI/DisplayPort, and two GbE LAN ports can also be found on PEAK 886VL2.
As for data-critical machine tools, PEAK 886VL2 adopts considerable measures to ensure fast data access, data reliability and data security. PEAK 886VL2 has four state-of-the-art 6Gb/s SATA 3.0 and two 3Gb/s SATA 2.0 ports; it supports RAID 0/1/5/10, enabling response acceleration and data recovery; it also offers TPM function as an option to carefully guard data security with cryptographic functions, RSA key, just to name a few.
PEAK 886VL2, following NEXCOM newly introduced operating temperature standard on its embedded boards, can perform its full functions at temperatures as low as -15°C. Put PEAK 886VL2 to good use, system designers can build assorted machines tools including CNC machine, milling machines, lathe, and more for use in severe environments.
Main Features
Scalable platform Intel® 3rd generation Core™ i7/ i5/ i3 processor + Non-ECC
Intel® Q77 PCH chipset support PICMG 1.3 specification
Support Dual channel DDR3 with NON-ECC DIMMs 1333/1600MHz up to 16GB
Support PCIex16, 4PCIe x1, 4USB3.0/4USB2.0, 4SATA3.0/2SATA2.0 and GbE
Display support for VGA, DVI, HDMI, DisplayPort
Dimension 338.58 x 126,39 mm2 (W x L)( 8 Layers Single side)
Ordering Information
PEAK 886VL2 (P/N: TBD) RoHS Compliant
PICMG 1.3 Full-size SBC, Intel® Q77 PCH chipset supports Intel® 3rd generation Intel® Core™ processor with Max 16GB DDR3 1333/ 1600MHz DIMM. Dual Gigabit Ethernet LAN ports, Six SATA interface.
NBP 14534 (P/N:TBD) RoHS compliant
PICMG 1.3 12-slot backplane for 4U chassis w/ 1 SHB slot, 4 x ISA slot, 4 x PCI slots, 3 x PCIe x 1 slots, 1 x PCIe x16 slots , 1 x Mini-PCIE (Reserved)
NBP 14111 (P/N: 10N01411100X0) RoHS Compliant
PICMG 1.3 14-slot backplane for 4U chassis w/ 1 SHB slot, 3 x PCI slots, 8 x PCI-X slots, 1 x PCIe x16