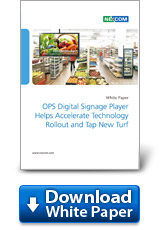 The beauty of digital signage is the ability to deliver right message to the right audience. To realize this ambitious goal, digital signage needs new technologies and needs it fast.
In this white paper, NEXCOM explains how Open Pluggable Specification (OPS) accelerates technology roll-out and simplifies digital signage deployment; how the 3rd generation Intel® Core™ processors fulfill technology needs; and how Intel® Active Management Technology facilitates post-implementation operation and maintenance of digital signage.
We will also illustrate how digital signage can tap new turf with NEXCOM NDiS M532, an OPS digital signage player based on the latest Intel® platform technology providing all required capabilities. Download to view the full content.
This white paper is published in Intel® Embedded Community. You can also review this article via following link.
http://embedded.communities.intel.com/docs/DOC-7545