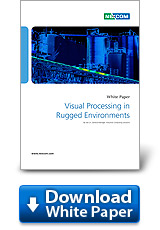 By Joe Lin, General Manager, Industrial Computing Solutions
To embedded computer, complex visual processing is becoming a major part in many rugged industrial applications. Visual computing in rugged environments is not without challenges, however. Most applications are resource-intensive and include extensive 2D and 3D graphics processing. Tough environmental conditions call for fanless designs that limit power and present thermal dissipation challenges. Customers are also pushing for ever-lower system cost and size.
In this article we will show how the 3rd generation Intel® Core™ processor family helps address these challenges with its increased graphics, computing, I/O throughput, and power-saving features, enabling advanced visual computing within strict thermal constraints. We will also illustrate how developers can deliver compact, rugged systems with the NEXCOM NISE 3600E, a state-of-the-art fanless embedded computer designed for high-performance and graphics-intensive applications.
This article also published in Intel® Embedded Innovator Newsletter (9th Edition 2012) http://embeddedinnovator.com/2012/06/visual-processing-in-rugged-environments/