During the 3 days of this glamorous event, NEXCOM presented a succession of fanless marine computers and marine signage solutions. For the first time, visitors to METS were able to see first-hand the compact series of NISE Fanless Embedded Computer Systems and nTUF range of Marine PC.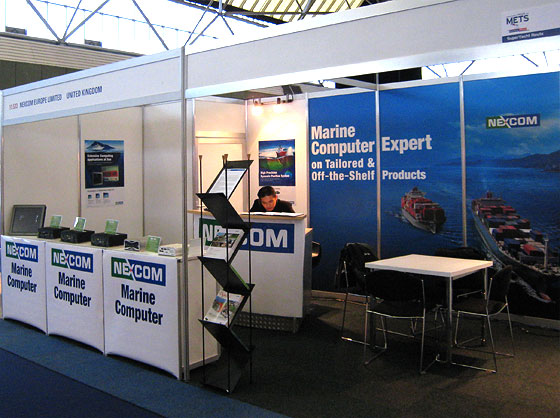 Typical of the range was the NISE 104 small fanless Industrial controller which boasts unrivalled functionality, impressive performance and because of its compact dimensions is perfect for navigation applications onboard super yachts. Like all products in the NISE series, NISE 104 is totally fanless and constructed from only the finest industrial-grade components and therefore much more reliable than a commercial-grade PC. For enhanced durability, NISE 104 has a "cable-free" internal construction, a feature that makes the system incredibly resistant to vibration and eliminates the possibility of users.
Another impressive product within the METS 2013 exhibition was nTUF series marine computer. NEXCOM's nTUF series is a tough computer which is mainly designed for marine bridge and control room computing applications. The fanless design and thermal solution on nTUF610 ensures the system will run smoothly and reliably. The nTUF fanless marine computer adheres to EN60945, IACS-E10, DNV, and NMEA specifications. Combined with fanless structure and isolation protection on NEMA interfaces and DC input, the computer can deliver reliable performance even when challenged by environmental conditions at sea. nTUF610 is one solid sturdy marine computer for fishing vessels, recreational boats, merchant marine, workboats, and sailing yachts.
To learn more about NEXCOM's solutions Fanless Computers, Panel PCs and Marine computers, please visit www.nexcom.com