Security office in commercial and residential Building requires state-of-the-art solutions that can keep up with the demands of modern surveillance and threat detection. With space-efficient design, high-performance processing, coupled with advanced data protection, NVR NViS 5704, a powerful video analytics solution, enable seamless surveillance operations and enhanced security measure in edge AI applications. These capabilities empower security office to efficiently monitor and analyze video streams, identifying potential threats and recognizing objects or individuals of interest in real-time.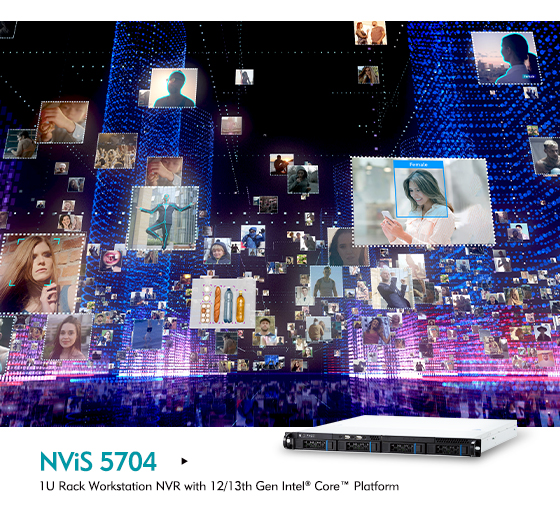 Optimal Space Utilization
The NVR NViS 5704 boasts a compact 1U form factor with rack depth only 56cm, making it an ideal choice for security office with limited space. Its space-efficient design ensures seamless integration into existing infrastructure without compromising on performance.
Unmatched Processing Power and Flexibility Enhance Edge AI Application in surveillance
At the heart of the NVR NViS 5704 lies the 13th Gen Intel® Core™ Processor with Performance Hybrid Architecture, delivering up to 16 cores, including a balance of performance cores for intensive tasks and efficient cores for power optimization. NViS 5704 also features a PCIe x16 expansion with the flexibility to integrate accelerator cards or powerful graphics cards. This groundbreaking processing power and accelerator card support enable edge AI applications in video analytics, such as face/motion detection, object recognition, ensuring enhanced surveillance capabilities and efficient decision-making.
Fortified Data Protection and Backup
Data security is of utmost importance in commercial and residential building security operations. The NViS 5704 comes equipped with TPM2.0 and Bitlocker drive encryption, providing robust data protection to safeguard sensitive information from unauthorized access and potential threats, especially when hard disk is lost or stolen. In addition, Intel RAID technology is utilized for secure data backup. With RAID D 0, 1, 5, 10 support, critical data can be mirrored or distributed across multiple drives, ensuring data redundancy and protection against data loss.
The NVR NViS 5704 offers an unparalleled blend of power, flexibility, and security, delivering a comprehensive solution for these mission-critical environments, With its accelerator card support, advanced Intel® Core™ processors, and enhanced data protection features, the NViS 5704 empowers security professionals to stay one step ahead in their efforts to safeguard communities and assets.
Main Features
System 1U Rackmount
12/13th Gen Intel® Core-i platform
DDR4 up to 64GB
HDD 4-Bays 3.5" (support RAID 0,1,5,10)
1 x NVME SSD, 1 x M.2 2242 SATA SSD
Display DP1.4, 1 x HDMI 2.0b, 1 x HDMI 1.4
2 x 2.5GbE Intel® Ethernet
Audio in/out/Mic
PCIe x16
Ordering Information
NViS 5704 (P/N: 10C00570400X0)
1U rack workstation NVR