NEXCOM high-end NPT 5850 POS series allows point of service to combine POS terminal and server with one piece of hardware to meet budget constraints. Featuring the 3rd generation Intel® Core™ processor family, the NPT 5850 series offers superb computing and graphics processing capabilities and assorted modular expansions. Designed for ease of maintenance, the full-functioned NPT 5850 series is ideal for payment processing, data acquisition server, and retail surveillance at every point of service.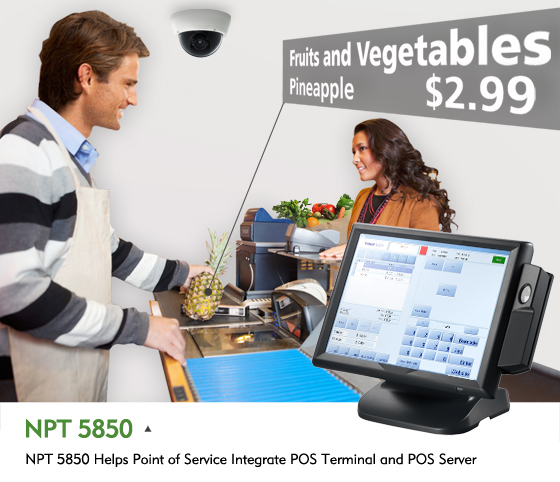 The NPT 5850 series integrates a 15-inch touch screen and supports a wide range of processors. From the 3rd generation Intel® Core™ to Pentium® processors, the superb computing and graphics processing capabilities allow the NPT 5850 series to act as not only a transaction-processing POS terminal but also a POS server which can be integrated with kitchen display systems, backend warehouse systems or in-store surveillance system.
To adapt to individual application requirements, the NPT 5850 series can be supplemented with assorted modular expansions. It supports magnetic stripe reader (MSR), fingerprint reader and VFD customer display; and the second display can be connected via a VGA connector. In the meanwhile, users can always turn to the mini-PCIe slot for further functional enhancement.
Given long operating hours of point of service, the NPT 5850 series is designed to keep maintenance simple. It has air vents covered by dust filters to avoid dust accumulation and the front panel meet IP65 standard to prevent dust, water and grease ingress. To allow for quick storage unit replacement, the HDD can be removed without dismantling the enclosure. In addition, the NPT 5850 series provides both VESA mount and the power stand for different deployment environments.
Three models of the NPT 5850 series have been made available: NPT 5850 with 5-wire resistive touch panel, NPT 5851 with 5-wire true flat resistive touch panel and NPT 5852 with projected capacitive true flat touch panel.
Main Features
Support 3rd Intel® Core™ processor family
Dust filter for ease of maintenance
IP65-compliant front panel
Removable HDD
Stand accommodate power brick
MSR/fingerprint/VFD kit (option)
Ordering Information
NPT-5850-110 (P/N: 10Y00585002X0)
3rd generation Intel® Core™ i3/i5/i7 mobile processor; 15" XGA 1024 x 768 250nits/ ELO 5-wire resistive touch; 2GB DDR3 SO-DIMM; 160GB 2.5" SATA 5,400rpm; DC-19V/ 120W power brick
NPT-5851-110 (P/N: 10Y00585102X0)
3rd generation Intel® Core™ i3/i5/i7 mobile processor; 15" XGA 1024 x 768 250nits/ ELO 5-wire true flat resistive touch; 2GB DDR3 SO-DIMM; 160GB 2.5" SATA 5,400rpm; DC-19V/ 120W power brick
NPT-5852-110 (P/N: 10Y00585204X0)
3rd generation Intel® Core™ i3/i5/i7 mobile processor; 15" XGA 1024 x 768 250nits/ projected capacitive true flat touch; 2GB DDR3 SO-DIMM; 160GB 2.5" SATA 5,400rpm; DC-19V/ 120W power brick
NPT-5852-130 (P/N: 10Y00585205X0)
3rd generation Intel® Core™ i3/i5/i7 mobile processor; 15" XGA 1024 x 768 250nits/ projected capacitive true flat touch; 2GB DDR3 SO-DIMM; 160GB 2.5" SATA 5,400rpm; DC-19V/ 120W power brick