NEXCOM Wi-Fi device server NIO 50 injects IoT connectivity into factories, gearing unconnected industrial equipment and machines for smart manufacturing and Industry 4.0. The NIO 50 delivers data acquisition capability, IoT connectivity, convenience of remote monitoring, and industrial durability to provide end-to-end connectivity for the industrial internet of things (IIoT). By breathing new life to fieldbus-based controllers, legacy manufacturing machines, and serial-based devices, the NIO 50 fills the communication gap between edge nodes to the cloud, enabling field data to be harnessed for manufacturing process optimization, remote management, and preventive maintenance.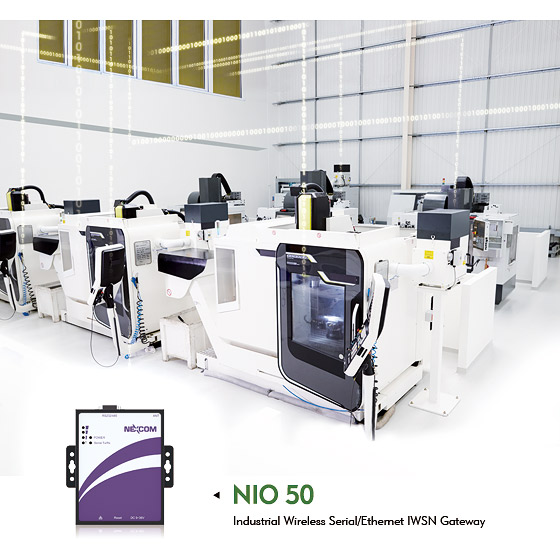 Targeted at the sheer amount of isolated equipment in factories, the NIO 50 features strong support for Modbus communication, internet connectivity, and MQTT protocol to get field data all the way from the edge to the cloud. The NIO 50 not only supports Modbus communication including Modbus TCP/IP, Modbus RTU, and Modbus ASCII; it also converts serial data signals into and from data packets. As the bi-directional data link can be flexibly set, field data can be exchanged among different Modbus systems or shared with the cloud via either wired LAN or Wi-Fi networks. Valuable data, such as manufacturing data created by PLCs, operating status of industrial automation and control systems, and real-time readings from MQTT-based sensors and meters, can circulate freely in factories or be transmitted to the cloud for further analysis.
To accelerate the implementation, the NIO 50 can be set up within minutes via a user-friendly web console. The web-based user interface allows network administrators to configure the NIO 50 to application needs without scrolling and editing command lines. Meanwhile, nCare, the network management software, allows remote BIOS upgrade in a batch and provides remote access to monitor the NIO 50 in operation. The NIO 50's status and details ranging from IP address to data flow to SSID can be accessed within a few clicks, obviating the necessity for physical presence of network administrators.
For use on factory floors the NIO 50 is specially engineered to deliver industrial-grade durability. For instance, the metal-cased NIO 50 offers an extended operating temperature range from -20 to 70 degree Celsius, a 9 to 36 voltage input range, and surge protection on serial and LAN connectors to work in proximity with field devices.
Main Features
Bi-directional data link
Support Modbus TCP/RTU/ASCII, MQTT, RS-232/422/485, tunneling
Internet connection: 802.11 b/g/n Wi-Fi, 1x 10/100 Ethernet
Secure data access with WPA & WPA2
Web-based configuration
Enhanced surge protection for serial, LAN, and power
Support 9~36V DC input
Support -20~70°C extended operating temperature
Ordering Information
NIO 50 (P/N: 10T00005000X0)
Industrial Wi-Fi device server