NEXCOM industrial Wi-Fi mesh point IWF 310 creates with ease an ad hoc Wi-Fi network in factories, preparing manufacturers for Industry 4.0. To spur the convergence of operational technology (OT) and information technology (IT), the IWF 310 features EZ mesh networking, enhanced connectivity, safety verification, and remote monitoring functions. Combining its industrial-grade reliability, the IWF 310 builds an industrial Wi-Fi network with stability, flexibility, security, and manageability to permit rapid adaptation to dynamic connection needs.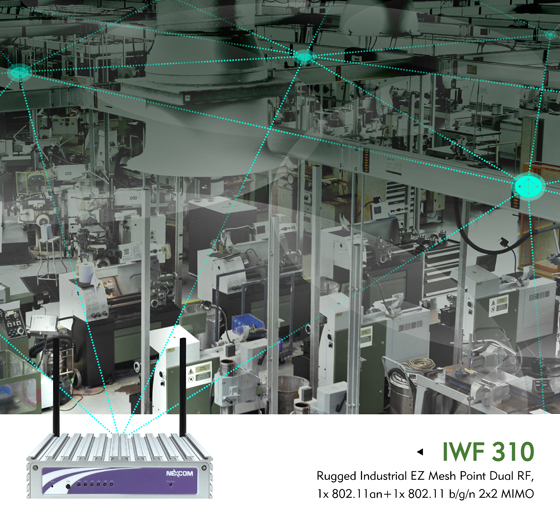 To simplify the deployment of network infrastructure in factories, the dual-RF industrial Wi-Fi mesh point (MP) is built with EZ mesh networking technology. Featuring self-forming and self-healing capabilities, the technology enables the IWF 310 to form a resilient wireless backbone that can easily adjust its coverage area, provide network path redundancy, and find the best available data path without the need of deploying any Wi-Fi controller. As in factories wired connection is often out of the question and constant changeover of layout is inevitable, the IWF 310 provides a practical alternative to wired LAN connection for network connectivity.
To build a trustworthy Wi-Fi network infrastructure, the IWF 310 supports 802.11 b/g/n 2.4GHz and 802.11an 5GHz networks with the 2x2 MIMO technology. With a data throughput of 300 Mbps per radio and amplified Wi-Fi signal strength of 27 dBm, the industrial Wi-Fi MP provides speedy and steady Wi-Fi connection to carry data through obstacles in factories. Meanwhile, a proprietary security design is built into the IWF 310 to only allow connection with authenticated and authorized MPs to reduce the risk of man-in-the-middle attack on the backbone network.
With the IWF 310, manufacturing data and business information can be easily and safely shared among factory floors, enterprise networks, and cloud service platforms, making possible remote real-time monitoring of manufacturing processes, early diagnosis of machine health, and constant optimization of business and factory operations.
The remote management function is also supported on the IWF 310. With the Simple Network Management Protocol (SNMP) access, network administrators can use a web console to check up on such as network traffic statistics and MP configuration settings. Moreover, the IWF 310 comes in an aluminum enclosure and supports an extended temperature range from -40 to 80 degree Celsius for better resistance and durability in industrial settings.
Main Features
EZ mesh networking with self-forming and self-healing features
Dual RF with 2x2MIMO : 1x 802.11an at 5GHz & 1x 802.11 b/g/n at 2.4GHz
Multiple functions: dual-RF MP/single-RF MP & single-RF AP/dual-RF AP
Up to 27dBmhigh RF power
Extended operating temperature range: -40 ~ 80°C
1+4 GbE RJ45 ports
Support 12V DC input
Ordering Information
IWF 310-EU (P/N: 10T00031000X0)
Industrial Wi-Fi mesh point for harsh industrial environments such as factories
IWF 310-US (P/N: 10T00031001X0)
Industrial Wi-Fi mesh point for harsh industrial environments such as factories
IWF 300-EU (P/N: 10T00030000X0)
Industrial Wi-Fi mesh point for semi-industrial environments such as warehouses and fulfillment center
IWF 300-US (P/N: 10T00030001X0)
Industrial Wi-Fi mesh point for semi-industrial environments such as warehouses and fulfillment center