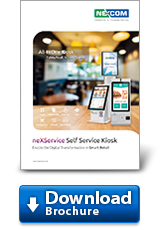 True to its name, the neXService Series takes self-service kiosks to the next level of excellence. With your choice among 15.6- (neXService-1600), 21.5-inch (neXService-2200), and 23.8-inch (neXService-2400) models, the neXService kiosk is easy to maintain, while featuring crystal-clear touch displays and a host of peripherals. It's the perfect, multipurpose fit for a variety of retail and service uses, including self-ordering, checkout, queuing, and visitor sign-in. neXService even offers a pre-installed software package instead of only hardware, which greatly shortens product time-to-market (TTM) and ensures successful deployments.
The best way to display
All users can easily operate the neXService self-service kiosk, constructed with industrial-grade product design and top-of-the-line technology. Our displays are 10-point P-cap multi-touch screens and employ a slim bezel design that's stylish and space-saving, yet blend seamlessly into surroundings. Furthermore, the 1600 and 2400 models are IP65 rated for maximum dust and moisture protection, and feature optical bonding to boost image quality, readability, and durability – all of which result in higher customer satisfaction. We even offer a hygienic and high-quality Corning® Gorilla® Glass screen option, whose antimicrobial silver ion properties keep surfaces stain-and bacteria-free.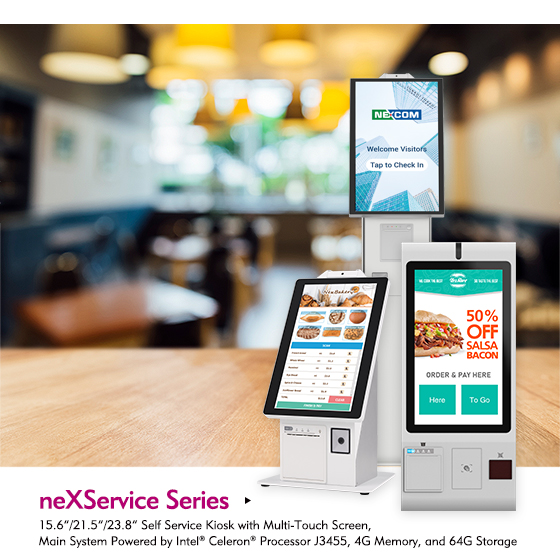 All-in-one package with ancillary devices
neXService is a versatile kiosk that can include a software package for easy deployment. In addition to a variety of peripherals, neXService incorporates a printer and barcode scanner. The default 80mm or optional 58mm built-in thermal printer opens up to easily change paper rolls with just one click. The fixed-mount barcode scanner is even specially optimized to read mobile phone screens. neXService is flexible enough to include optional devices besides cameras, such as NFC, RFID, EMV, and MSR card readers, payment mount brackets, and Wi-Fi or 3G/4G modules. Furthermore, the kiosk is onboard with two USB 2.0 ports, LAN port, and M.2 2242 M Key slot for storage.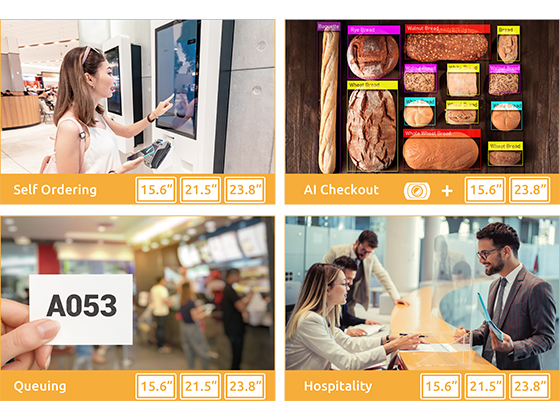 Easy does it
With its modular design, neXService is designed for stress-free upgrades and maintenance. Reduce time and avoid the stress of disassembling equipment to connect peripheral devices, as USB and LAN ports are external. Because each model is individually targeted for different environments, we also offer an assortment of mounts to fit your diverse needs. The neXService-2200 has a choice of floor stand or wall mount kit, while the neXService-2400 includes a tabletop with optional floor stand.
Applications
Smart Self Sign-in System
Smart Queuing System
Smart Self-Ordering & Paymentsl
Smart Check-in & Checkout System
Smart Self-Registration
Ordering Information
neXService-1600 (P/N: 10W50160000X0)
15.6" HD LED P-CAP Table Kiosk, main system powered by Intel® Celeron® processor J3455, 4G memory, and 64G storage
neXService-2200 (P/N: 10W50220000X0)
21.5" Full HD LED P-CAP Kiosk, main system powered by Intel® Celeron® processor J3455, 4G memory, and 64G storage
neXService-2400 (P/N: 10W50240000X0)
23.8" Full HD LED P-CAP Floor Stand Kiosk, main system powered by Intel® Celeron® processor J3455, 4G memory, and 64G storage