NEXSEC -introduces the fastest Wireless connection of uCPE, DTA1161-5G, in 2019 APSARA conference today. DTA1161-5G is designed for consistently high bandwidth, low latency, reliability, hardware-enhanced security, and flexible Cloud access connections required for today's applications such as Cloud DC(Direct Connection), VR, cloud gaming, 8K video streaming, and the Internet of Things.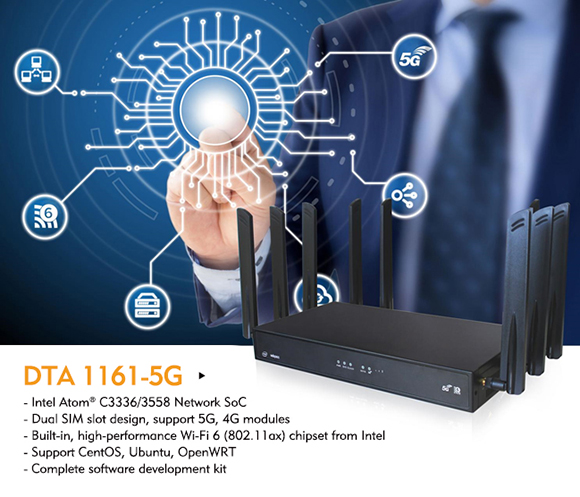 DTA1161-5G is powered by the Intel Atom® processor C3336/C3558 Network SOC featuring a maximum of 16 GB of DDR4 ECC memory, support for Two 1Gbps Combo ports, plus a Dual SIM slot design for both a 5G and 4G connection. Multiple WAN access interfaces allow effective network connections to the internet and cloud via up to 8x 1GbE connections for LAN, and most importantly, it includes Intel's Wi-Fi 6 Gig+ router chipset (based on the 802.11ax standard) for the latest advancement in Wi-Fi connectivity. DTA1161-5G is integrated with Intel® Virtualization Technology (VT-x), Intel® QuickAssist Technology (Intel® QAT), and Data Packet Development Kit (DPDK) to optimize processor utilization, network throughput, and consistently high service levels. The software and hardware are completely decoupled allowing platform support for rich open source software, provisions for SD-WAN implementations, and high performance network protocol stacks. This rich feature set will accelerate both enterprise applications and edge platform innovation.
" DTA1161-5G is an easy solution for enterprise to extend their business scope" said by Ming Li, General Manager of NEXSEC (Beijing). " DTA1161-5G supports the latest WiFi 6 and 5G and multiple connection types, with agility to intercept further software and hardware portfolio innovations. This well priced value-driven appliance showcases high expandability, high performance and flexible access, which helps accelerate the cloud transformation of enterprise business.
Bob Ghaffari, General Manager, Enterprise & Cloud Networking Division at Intel, said, "Nexsec has launched a series of uCPE white box solutions based on Intel platforms technology for varying user applications, network connectivity and compute requirements for the enterprise. Utilizing these solutions, customers now have the flexibility to choose from an Intel product portfolio that offers both wired and wireless options with platforms that can address small, medium and large enterprise requirements while providing the agility for future expansion."
NEXSEC's DTA1161-5G showcases inexhaustible possibilities of 5G applications. Powered by Intel Atom® C3000 processor family, it features scalable performance, virtualization technologies, and fastest wireless connection to provide a solid platform for uCPE and edge computing. DTA1161-5G enables provisioning customized network services over virtual networks to improve service agility and operational flexibility for enterprise and telecom customers.
About NEXSEC
NEXSEC was established in Beijing in 2006 as a wholly owned subsidiary of NEXCOM International. Over the years, our expertise and technological innovation, together with a "customer-first" spirit, have driven us in offering quality design and manufacturing services, including hardware system design, product engineering, manufacturing, software installation, and global logistics, based on processor platforms such as x86 and MIPS/ARM, as well as domestically produced Loongson and FeiTeng. NEXSEC is the industry leader, with an established reputation for cloud computing, uCPE/SDWAN, SDN/NFV, network security platforms, HPC, telecommunication platforms, industrial storage equipment, industrial switches, and industrial firewalls.