LoopEdge Gateway Software Offered on NEXCOM IoT Gateway to Bring Intelligence to the Edge
NEXCOM USA, an Industry 4.0 Total Solution provider, today announced a partnership with Litmus Automation to couple Litmus LoopEdge gateway software with the NEXCOM IoT Gateway Solution. With the partnership, customers can now purchase a NEXCOM IoT Gateway with LoopEdge out of the box for a cloud-ready IoT solution that integrates critical hardware and software components.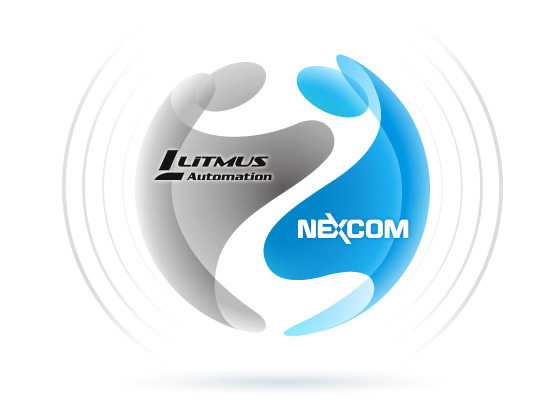 Based on Intel processors, NEXCOM IoT Gateways offer a universal hardware platform to bridge the gap from the edge to the cloud. LoopEdge simplifies the complexity of creating Industrial IoT solutions by providing connectivity to almost any industrial legacy protocol or device, management of many gateways at once, and access to a marketplace of applications that can be used on the data being aggregated within the gateway.
"Manufacturers want to use predictive maintenance to address failure risks but making accurate predictions takes experts with domain knowhow," said Hadwin Liu, Assistant VP, NEXCOM. "Our IoT Gateways coupled with LoopEdge allow manufacturers to not only quickly pull data off their disparate machines, but also easily create models based on historical data and patterns of reference. Now, they can collect and analyze valuable data at the edge for a complete, connected, secure solution."
Deploying LoopEdge on NEXCOM IoT Gateways takes only minutes, and installation is as simple as either plugging in a USB when turning on the device for the first time, or interfacing via Litmus' Loop device manager. NEXCOM IoT Gateways combined with LoopEdge can seamlessly enable predictive maintenance and other industrial IoT projects.
"LoopEdge running on NEXCOM IoT Gatways provides an industrial-grade, end-to-end connected solution to bring intelligence to the edge," said Vatsal Shah, CEO/Co-founder of Litmus Automation. "We look forward to this partnership with NEXCOM to combine their universal hardware platform with our software to allow industrial companies to access data in the field or factory to make better business decisions."
For more information about NEXCOM USA. and its IoT products, visit https://www.nexcom.com/Partner/Page/software-solution-partners
About NEXCOM USA
Established in September 1999, USA, NEXCOM USA. is a subsidiary company of NEXCOM International Co., Ltd. The main business of NEXCOM United is to provide Industry 4.0 Total Solutions by joining software with firmware designed, specially, with open architecture. The Consultants, Sales, R&D, and other service teams at NEXCOM United serve their customers with the greatest standard of professional expertise, technology, after-sales service, product quality and supply chain management. Under NEXCOM's impressive management, NEXCOM United ensures all departments are at its consultative advisory and one-stop service to help their customers achieve their vision.
About Litmus Automation
Litmus Automation bridges the gap between data in the field or factory and business applications for companies looking to implement Industrial Internet of Things (IIoT) solutions. Litmus Automation's offerings, LoopEdge and Loop, work seamlessly together to allow companies to access and exploit data previously trapped within enterprise hardware, no matter where or when it was deployed. Working with original equipment manufacturers and other industrial companies, Litmus Automation brings a modern development approach, a responsive team, a nimble business model, and a proven IIoT solution to all their engagements. Litmus Automation focuses on the Industrial and Automotive industries, and counts some large Fortune 500 companies as clients and partners.
www.litmusautomation.com @LAutomation