NEXCOM's will showcase its comprehensive and multimedia-support digital signage players to meet sophisticated, increased demands for different verticals at the Integrated Systems Europe (ISE) Exhibition. The exhibition will take place in Amsterdam RAI, Netherland, from February 10 to 12, 2015. The lineup includes applications covering from responsive retail stores, transportation signage, to quick service restaurants.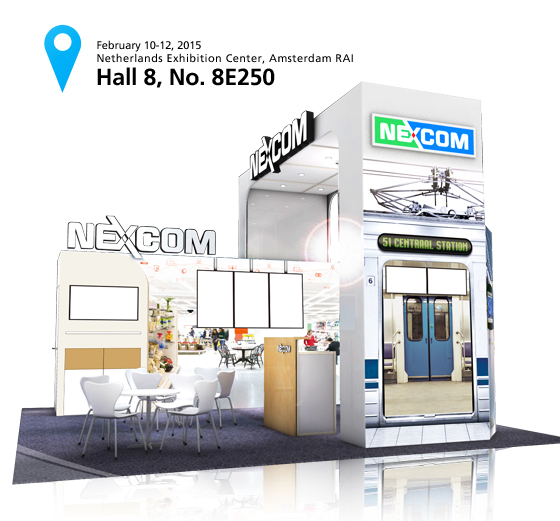 Under the Internet of Things (IoT) megatrend, NEXCOM recreates a retail-based scenario of a highly responsive store to demonstrate how retailers can transform from being store-centric to interactive, customer-centric. Responsive stores can offer better customer experience, help customers find exact what they need, offer better customer engagement or in-time incentives, and even provide personalized shopping recommendations. Retailers can then combine and analyze data from line-of-business assets to help increase customer satisfaction, better services, and revenue.
To recreate this cyber-physical retail environment, NEXCOM's responsive store is composed of a digital shopping cart, a digital shelf management system and an in-store intelligent video system. NDiS B842 digital signage player, fueled with in-store intelligent video analytics, can perform face recognition to send responsive advertisement messages to target audience for better marketing results. NDiS B842 features the dual-GPU design with superior graphic performance to display immersive visuals at 3K x 2K resolution on three displays. Triggered via tablets on the digital shopping cart, NEXCOM B323 can offer the latest product updates, tailor-made recommendation, and even promotions to designated customers. In addition, an interactive digital signage gives shoppers interactive experience with specific information of customer needs.
For the transportation scenario, NEXCOM will present solutions include PIS systems on the station platform, in-vehicle signage, and ticketing kiosk signage. NEXCOM's first all-in-one in-vehicle signage panel PC NDiS A322 will showcase real-time passenger information to enhance travel experience. Powered by Intel® Celeron® processor N2807, the compact NDiS A322 is compliant to in-vehicle industrial standard with high anti-vibration protection. In addition, the B323 presents its high cost/performance value to control two passenger information displays while the NDiS B166 shows the powerful computing in ticketing kiosk.
Finally, NEXCOM will demonstrate an unmanned service station where visitors can select and pay for food through the interactive menu board controlled by the high-performance NDiS B166 digital signage player. The quick, self-service restaurant scenario simply demonstrates the unlimited possibilities that digital signage can create.
Cordially invite you to visit NEXCOM at ISE to discover successful digital signage applications for various vertical segments.
Event Details
Date: February 10-12, 2015
Exhibition Center: Netherlands Exhibition Center, Amsterdam RAI
Booth: Hall 8, No. 8E250