At the Integrated Systems Europe (ISE) exhibition, NEXCOM's digital signage players demonstrated a vivid representation of signage scenarios covering from responsive retail stores, transportation signage, to quick service restaurants, amazing visitors with stunning experiences.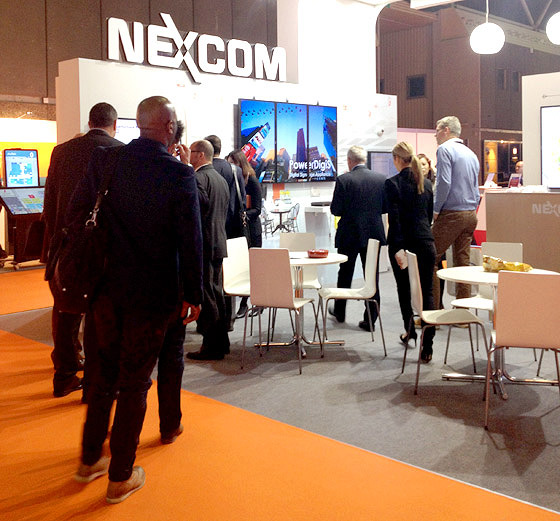 NEXCOM's responsive store received many inquiries. Visitors enjoyed unprecedented experience and witnessed how NEXCOM's responsive store offers better customer engagement, in-time incentives, and even provide personalized shopping recommendations to audiences. Equipped with four HDMI display outputs, NEXCOM's digital signage players NDiS B842 displayed images and videos stretched seamlessly across a three-display video wall. Fueled with in-store intelligent video analytics, NDiS B842 showcased how it can send responsive advertisement messages to target audience to drive better marketing results and revenue.
Furthermore, NEXCOM's Android™-based digital signage players NDiS B114, demonstrated for digital shelf management system in NEXCOM's responsive store, made its debut at ISE and became one of the highly sought-after products. Powered by a quad-core Freescale™ i.MX 6Quad application processor, NDiS B114 can show product details on display racks and increase shoppers' awareness of special offers at checkout counters, enhancing in-store shopper experiences and turning foot traffic into sales.
NEXCOM's first all-in-one in-vehicle signage panel PC NDiS A322 also garnered widespread interest at ISE with its compact design. Compliant with IP54 and in-vehicle industrial standard, NDiS A322 showcased how it can provide real-time passenger information to enhance travel experience. Powered by Intel® Celeron® processor N2807, NDiS A322 vehicle signage is designed in a compact form factor, maintaining the industrial requirements for high availability, wide temperature operation, and high anti-vibration protection.
For more information about NEXCOM's digital signage players, please visit NEXCOM's website.